Your Third Story of Leadership: Featuring Flip Flippin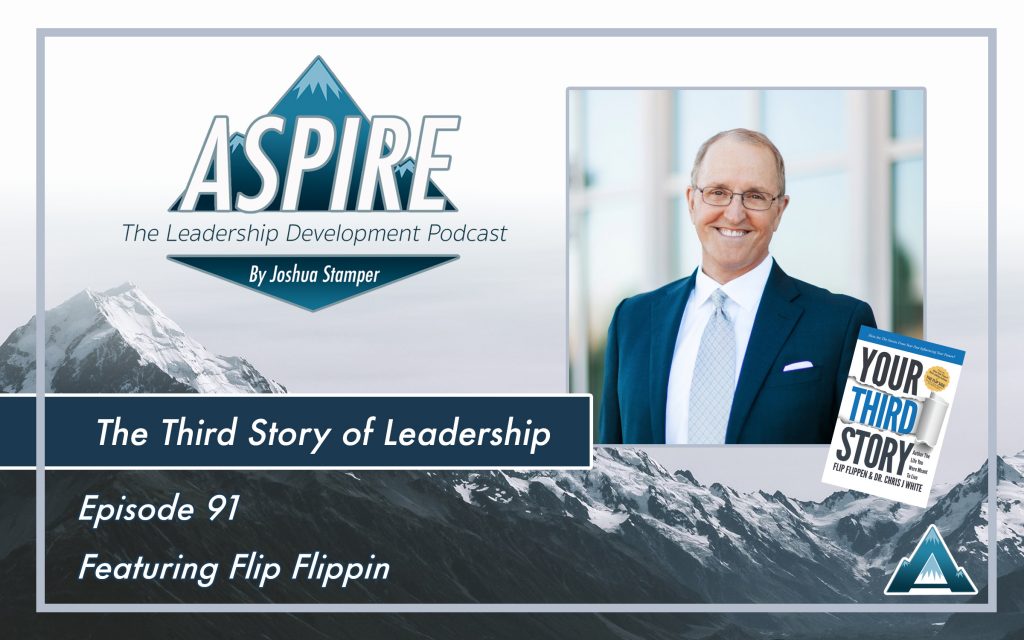 If you reflected on your leadership journey, would you find any lies or excuses in your story? This week's guest, Flip Flippin, explains how we can identify the lies and acquire the necessary skills to write the story of our dreams. 
In this Episode, we discuss:
Flip's Journey and Involvement in Education

The Lead Worthy Initiative

Classroom Management and Restorative Practices

School Culture and Climate

Flip's Newest Book: Your Third Story
Follow Flip Flippin:
About Flip Flippin:
Flip is founder and chairman of Flippen Group, one of the fastest-growing educator training, corporate talent, and team development companies in North America. Flippen associates give themselves relentlessly each day to "Building relationships and processes that bring out the best in people."
Flip and his wife Susan, who is CEO, were named Ernst & Young Entrepreneurs of the Year, the only couple to ever receive this prestigious award. Previous recipients include Howard Schultz (Starbucks), Pierre Omidyar (eBay, Inc.), Reid Hoffman and Jeff Weiner (LinkedIn), and other fast-growth companies. Founded in 1990, Flippen Group was chosen by Texas Monthly magazine as #2 in the listing of Best Companies to Work For in Texas. The company's breakthrough educational curricula and processes are used in thousands of schools nationwide, and their business division works with multinational and global companies around the world, enhancing performance and outcomes. Their leadership development and organizational consulting work has delivered dramatic improvements in professional sports teams and government organizations such as the US Army Corps of Engineers.
Flip earned a bachelor's degree from Stephen F. Austin State University and a graduate degree from Texas A&M University. The first 16 years of Flip's professional life as a psychotherapist were spent working with gang kids. In the process, he built an outpatient clinic for at-risk youth and a 500-acre residential treatment facility for boys in College Station, Texas.
Flip developed the theory of Overcoming Personal Constraints to accelerate personal effectiveness by identifying and breaking debilitating behavior patterns that limit performance and hinder growth. He and his team developed the world's most sophisticated psychometric assessment instrument, capable of identifying personal constraints and prescribing methods for changing behavior. The theory and practice of Overcoming Personal Constraints are being used in boardrooms, locker rooms, and briefing rooms to improve individual and team performance around the world.
Flip is recognized as one of the top leadership thought leaders in America. His first book, The Flip Side: Break Free of the Behaviors That Hold You Back, is available in nine languages and became an instant New York Times and USA Today best seller, as well as making the CEO Read best seller list. Flip has also contributed to hundreds of publications, including Inc. magazine and SUCCESS magazine, and has made appearances on the Today show, the Super Bowl Pre-Game show, and Speed Channel's NBS 24/7.
With an emphasis on changing behaviors and attitudes that stand in the way of personal and team effectiveness, Flip presents keynote speeches and leadership development events worldwide. Flip and Susan live on their ranch in College Station, Texas, where they have helped raise twenty children.
Go Community!
This community is one of my favorite one-stop-shop tools to engage with other amazing school leaders. I use this online resource to gain insight, gather resources, and develop my leadership capacity.
The #1 Leadership Online community is generous and authentic, an antidote to the clutter and noise that other social media sites have become.
What makes this community different is that it is:
An investment, not free

A private community with the same goal

A conversation, not a variety of self-promoting presentations

Evergreen, not ephemeral

Focused on serving school leaders, not advertisers, companies, or investors
I highly recommend using Go! Community to enhance your leadership skills!
This post contains affiliate links.
When you make a purchase through these links, The Aspire Podcast gets a small percentage of the sale at no extra cost to you.
Need a Presenter for a conference or school PD?
Contact Joshua Stamper  for presentations on Restorative Practices, Leadership Development, and Innovative campus systems.
Follow the Host, Joshua Stamper:
Join the Conversation
My favorite part of recording a podcast each week is participating in the great conversations that happen on social media and in our comments section. Please use the #AspireLead hashtag as you continue the conversation on social media. 
If you've gotten any value from this show at all, please subscribe and leave a rating and review wherever you're listening. The ranking of this show is 100% tied to subscriptions and reviews. You can help us reach more school leaders by subscribing to the show and leaving an honest rating and review.