Toddle School Leaders Bootcamp: Featuring Adam Hill and Annette de Graaf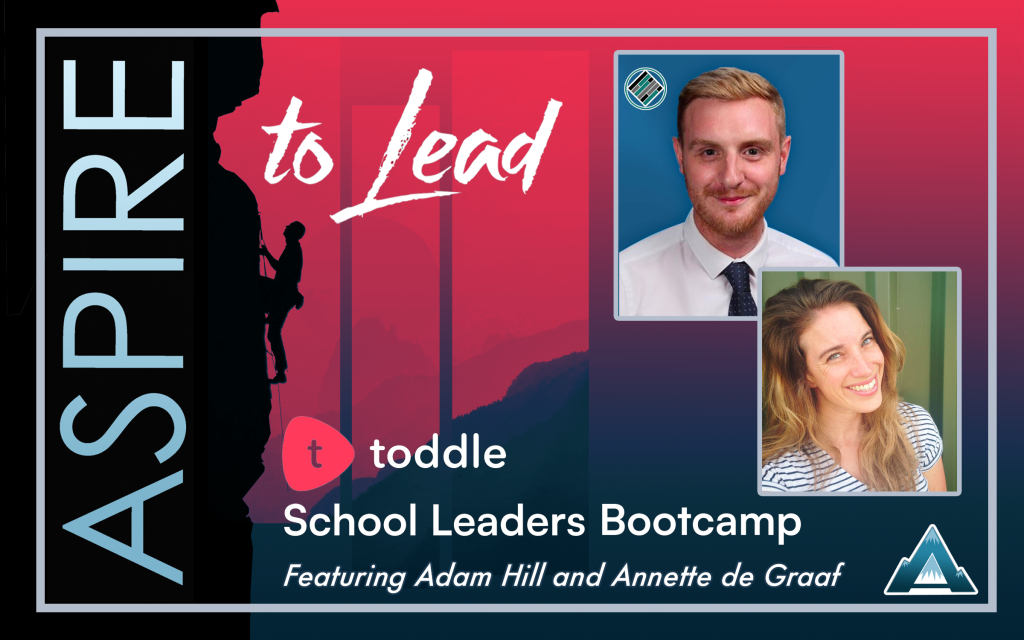 This BONUS episode is sponsored by Toddle. Toddle is an all-in-one teaching and learning platform used by over 40,000 educators around the world! On March 3rd and 4th, Toddle hosted the largest virtual gathering for school leaders across the globe with 5000+ school leaders in attendance. Today we are going to speak to two fantastic educators who were in attendance to provide their takeaways and insights from the many wonderful presentations offered. 
My first guest is Adam Hill, a Principal located in China. Adam's school uses the Toddle platform and he attends as many Toddle online events as possible. We will be learning about his journey as he just started a brand new school and is implementing future ready and STEM practices on his campus. 
Follow Adam Hill:
My second guest is Annette de Graaf, an aspiring leader located in the Netherland's as she too attended the Toddle School Leaders bootcamp. In this conversation, we are going to learn about her leadership story and what she gained from all the wonderful presentations in this two day event. 
Follow Annette de Graaf:
New OFFICIAL Sponsor of the Aspire to Lead Podcast!
This episode is sponsored by Toddle. Toddle is an all-in-one teaching and learning platform used by over 40,000 educators around the world!  Make sure you check out their wonderful online platform at https://www.toddleapp.com/ 
Need a Presenter for a conference or school PD?
Contact Joshua Stamper  for presentations on Restorative Practices, Leadership Development, and Innovative campus systems.
Watch my session on Trauma Informed, restorative and social emotional practices at www.teachsummit.com/stamper
Follow the Host, Joshua Stamper:
Contact: https://joshstamper.com/contact/
Twitter: www.twitter.com/Joshua__Stamper
Instagram: www.instagram.com/joshua__stamper
Linkedin: www.linkedin.com/in/joshua-stamper
Facebook: https://www.facebook.com/AspirePodcast
Subscribe: https://podcasts.apple.com/us/podcast/aspire-the-leadership-development-podcast/id1384210762?mt=2
Aspire to Lead Won the FireBird Award!
I'm happy to announce that my book, "Aspire to Lead", won the 2022 Leadership Book Award from Speak Up Talk Radio! 
It is a great honor to get this kind of recognition and I really appreciate all your support!
The book is available for purchase on Amazon.
Review the Podcast
I want to give a huge shout out to those who have taken the time to provide a review on Apple, Spotify or any other podcast platform. It truly means the world to me that you would take the 30- 90 seconds to share how the podcast has positively impacted you or why other educators should check out the show.
This post contains affiliate links. When you make a purchase through these links, The Aspire Podcast gets a small percentage of the sale at no extra cost to you.