Teach, Play, Learn: Featuring Adam Peterson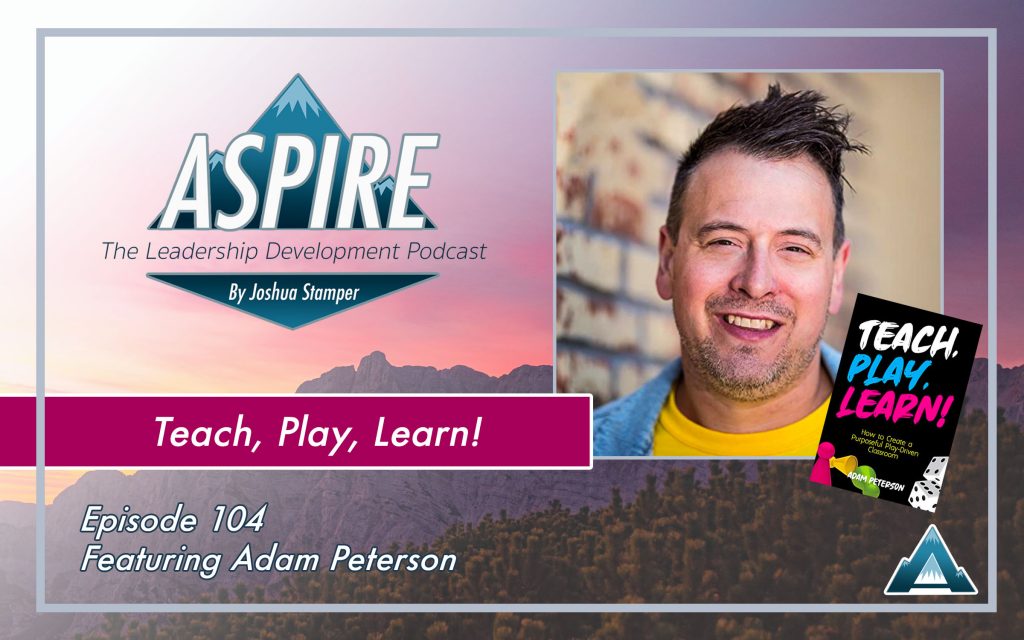 When you hear that a student is playing in school, what are your first thoughts as an educator? My guest, a former kindergarten teacher, shares how he used play to transform the classroom, increase learning and engage students of all ages. I'm excited for everyone to hear the amazing insight of Adam Peterson, the author of "Teach, Play, Learn!", as we discuss how to lead through play.  
In this Episode, we discuss:
Tips to engage your students

Free Resources to Impact your Teaching

Finding Passion in your Profession

And The Yellow Project
FollowAdam Peterson:
Website: 
Twitter: https://twitter.com/teacherslearn2
Instagram: @teacherslearn2
Facebook: Adam Peterson Education
Linkedin: Adam Peterson Education
YouTube: www.teacherslearn2.com   Adam Peterson Education (channel name)
Also, Adam mentioned his purple hair, which is in honor of raising money in support of the Pancreatic Cancer Action Network. By making a donation, you are helping to advance research, support patients and create hope for those fighting pancreatic cancer.
Please make a donation today and help me to reach my fundraising goal!
Donate here: https://bit.ly/2N4gOVB
About Adam Peterson
Adam Peterson is an award-winning educator, nationally recognized speaker, and #1 Best-Selling author of the book, Teach, Play, Learn!.  After spending more than a decade as a kindergarten teacher, Adam now uses his knowledge and talents to inspire, educate, and motivate other teachers to create classrooms that encourage creativity, play, and hands-on learning.  When he's not working with teachers on location, Adam spends his time at home creating YouTube videos for teachers, co-hosting the popular podcast, The Classroom Collaborative with Deedee Wills, and writing any chance he gets.  Adam's most recent accomplishment was being a featured speaker at the event TEDxNormal 2019, where he shared his message of making the world a brighter place through his Make Someone's Day Yellow talk and his #betheyellow campaign!  Being a believer that family comes first,  Adam spends every free second he has with his beautiful wife, Trisha, and their two amazing children.
For more information on where to see Adam speak, or to book him for your own school, visit his website adampetersoneducation.com.  You can keep up with him on Instagram (@teacherslearn2) and Twitter (@teacherslearn2).  Visit makesomeonesdayyellow.com to learn how to get this inspiring event started at your own school!
This post contains affiliate links.
When you make a purchase through these links, The Aspire Podcast gets a small percentage of the sale at no extra cost to you.
Need a Presenter for a conference or school PD?
Contact Joshua Stamper  for presentations on Restorative Practices, Leadership Development, and Innovative campus systems.
Follow the Host, Joshua Stamper:
Join the Conversation
My favorite part of recording a podcast each week is participating in the great conversations that happen on social media and in our comments section. Please use the #AspireLead hashtag as you continue the conversation on social media. 
If you've gotten any value from this show at all, please subscribe and leave a rating and review wherever you're listening. The ranking of this show is 100% tied to subscriptions and reviews. You can help us reach more school leaders by subscribing to the show and leaving an honest rating and review.
As we continue through this journey of distant learning, I wanted to bring you some content specific to our current struggle. Instead of asking one person, I asked many of my friends to share their insight and wisdom. Since I had so many submissions, I'm going to break this up into several short bonus episodes. I asked these amazing educators one question: what tips or strategies would you suggest during this unprecedented time? I hope their responses provide value and strength during your distant learning experience.