96. Structure in Isolation: Featuring Mandy Froehlich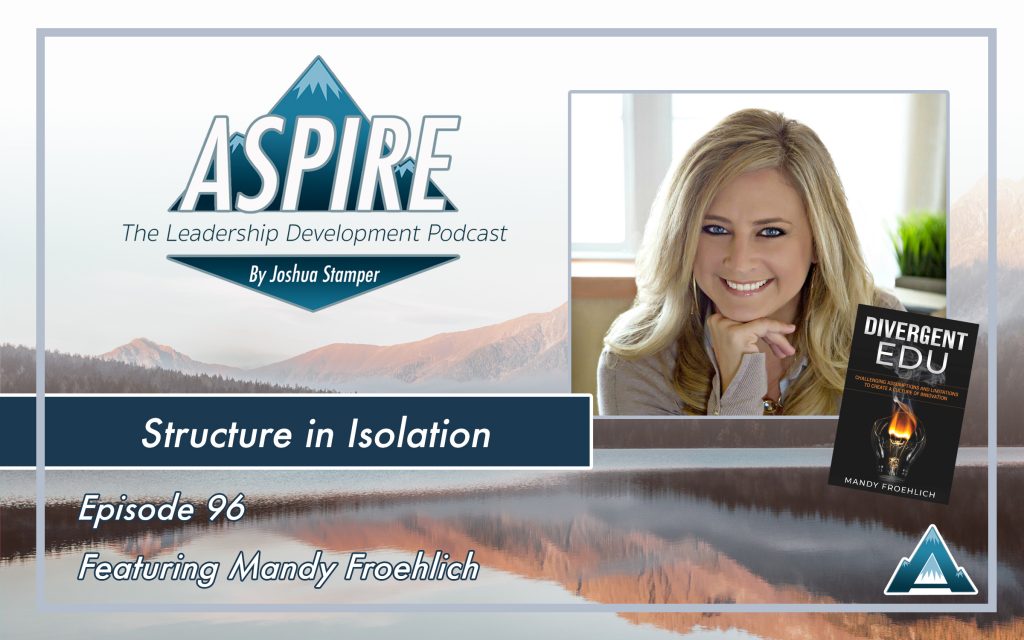 Obviously, we are living and educating in an unprecedented time and I wanted to discuss  this question: How do we handle mental health during a time of isolation and what strategies should we use for distant learning? This week's guest and my Teach Better speaking network teammate, Mandy Froehlich, shares the importance of structure and grace and provides practical strategies during distant learning.  
In this Episode, we discuss:
Divergent Thinking

Increasing Trust as a Leader

Distance Learning Strategies

Blogging with Vulnerability

And The Teacher Aide Podcast
Follow Mandy Froehloch:
About Mandy Froehloch:
Mandy Froehlich passionately encourages educators to create innovative change in their classrooms. A former Director of Innovation and Technology, technology integrator, and teacher, she has experience at many levels of the organizational structure. Her interest lies in reinvigorating and re-engaging teachers back into their profession, as well as what's needed to support teachers in their pursuit of innovative and divergent thinking and teaching. She consults internationally with school districts and post-secondary institutions in the effective use of technology to support great teaching, mental health support for educators, and how to create organizational change. Her first book, The Fire Within: Lessons from defeat that have ignited a passion for learning, discusses mental health awareness for teachers. Her second book, Divergent EDU, is based on an organizational structure she developed to support teachers in innovative and divergent thinking. Her third book, based on educator engagement and mental health called Reignite the Flames, will be released spring 2020.
Go Community!
This community is one of my favorite one-stop-shop tools to engage with other amazing school leaders. I use this online resource to gain insight, gather resources, and develop my leadership capacity.
The #1 Leadership Online community is generous and authentic, an antidote to the clutter and noise that other social media sites have become.
What makes this community different is that it is:
An investment, not free

A private community with the same goal

A conversation, not a variety of self-promoting presentations

Evergreen, not ephemeral

Focused on serving school leaders, not advertisers, companies, or investors
I highly recommend using Go! Community to enhance your leadership skills!
This post contains affiliate links.
When you make a purchase through these links, The Aspire Podcast gets a small percentage of the sale at no extra cost to you.
Need a Presenter for a conference or school PD?
Contact Joshua Stamper  for presentations on Restorative Practices, Leadership Development, and Innovative campus systems.
Follow the Host, Joshua Stamper:
Join the Conversation
My favorite part of recording a podcast each week is participating in the great conversations that happen on social media and in our comments section. Please use the #AspireLead hashtag as you continue the conversation on social media. 
If you've gotten any value from this show at all, please subscribe and leave a rating and review wherever you're listening. The ranking of this show is 100% tied to subscriptions and reviews. You can help us reach more school leaders by subscribing to the show and leaving an honest rating and review.