252. Revolutionizing Student and Teacher Wellbeing: Featuring Nicholas Mann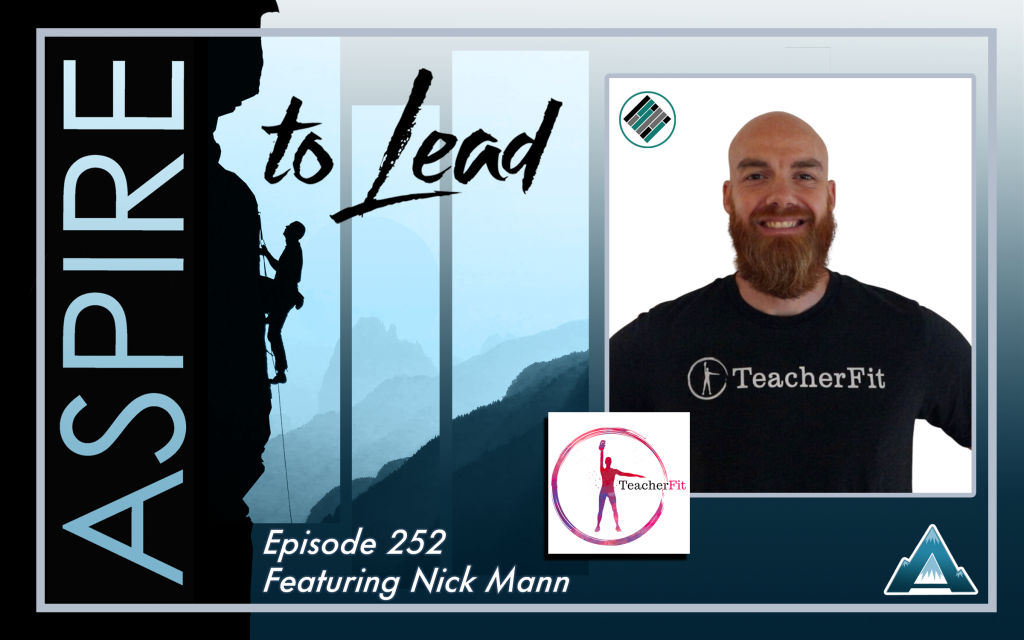 Welcome to Aspire to Lead, the podcast dedicated to exploring innovative pathways in education and personal growth. This week, I'm honored to have Nicholas Mann, a trailblazer in enhancing student and teacher wellbeing and founder of TeacherFit, as our special guest.
In this enlightening episode, "Revolutionizing Student and Teacher Wellbeing," we dive into the realm of mental health, fitness, and nutrition in educational settings. With Nicholas Mann's expertise, we uncover actionable strategies to prioritize mental wellness for educators and students alike, fostering resilience and emotional balance.
Discover how Nicholas Mann's groundbreaking insights reimagine fitness within the academic sphere, offering attainable ways to integrate physical activity into even the busiest schedules. Moreover, we explore the profound impact of nutrition on cognitive function and mood, unveiling practical approaches to mindful eating that support sustained energy and vitality.
Join us as we embark on this transformative conversation, unlocking the keys to holistic wellbeing for students, teachers, and anyone passionate about creating thriving educational environments. Tune in to Aspire to Lead for a journey towards a healthier, more empowered future.
In this episode, we discuss:
SEL Program, StudentFit Advocate 
Wellness Education and Strategies
And Teacher Fit
About Nick Mann :
Nick is the founder of TeacherFit and StudentFit Advocate. Combined these programs have partnered with over 500 districts and schools to provide proactive mental and physical wellness solutions for teachers and students. Nick is a Veteran of the United States Marine Corps, holds certifications in fitness and nutrition, and is on a mission to impact young people and adults through coaching and accountability.
Follow Nick Mann
:
Supporting the Podcast!
Have you ever thought about supporting the Aspire to Lead podcast? For just $5 a month, you can help me continue to create and produce valuable content for aspiring leaders in education.
I understand that everyone has their own preferences and budgets, so if $5 a month isn't feasible for you, no worries! The podcast will always be available to listen to for free. However, if you do find value in the podcast and can afford to contribute, your support would mean the world to me. By contributing, you're enabling me to continue doing what I love and providing you with quality content.
Thank you for considering supporting the Aspire to Lead podcast . Your contribution, no matter how small, is greatly appreciated
https://aspiretoleadpodcast.captivate.fm/support 
Need a Presenter for a conference or school PD?
Contact Joshua Stamper  for presentations on Restorative Practices, Leadership Development, and Innovative campus systems.
Watch my session on Trauma Informed, restorative and social emotional practices at www.teachsummit.com/stamper
Follow the Host, Joshua Stamper:
Contact: https://joshstamper.com/contact/
Twitter: www.twitter.com/Joshua__Stamper
Instagram: www.instagram.com/joshua__stamper
Linkedin: www.linkedin.com/in/joshua-stamper
Facebook: https://www.facebook.com/AspirePodcast
Subscribe: https://podcasts.apple.com/us/podcast/aspire-the-leadership-development-podcast/id1384210762?mt=2
Aspire to Lead Won the FireBird Award!
I'm happy to announce that my book, "Aspire to Lead", won the 2022 Leadership Book Award from Speak Up Talk Radio! 
It is a great honor to get this kind of recognition and I really appreciate all your support!
The book is available for purchase on Amazon.
Review the Podcast
I want to give a huge shout out to those who have taken the time to provide a review on Apple, Spotify or any other podcast platform. It truly means the world to me that you would take the 30- 90 seconds to share how the podcast has positively impacted you or why other educators should check out the show.
This post contains affiliate links. When you make a purchase through these links, The Aspire Podcast gets a small percentage of the sale at no extra cost to you.