Innovate Inside the Box: Featuring George Couros and Katie Novak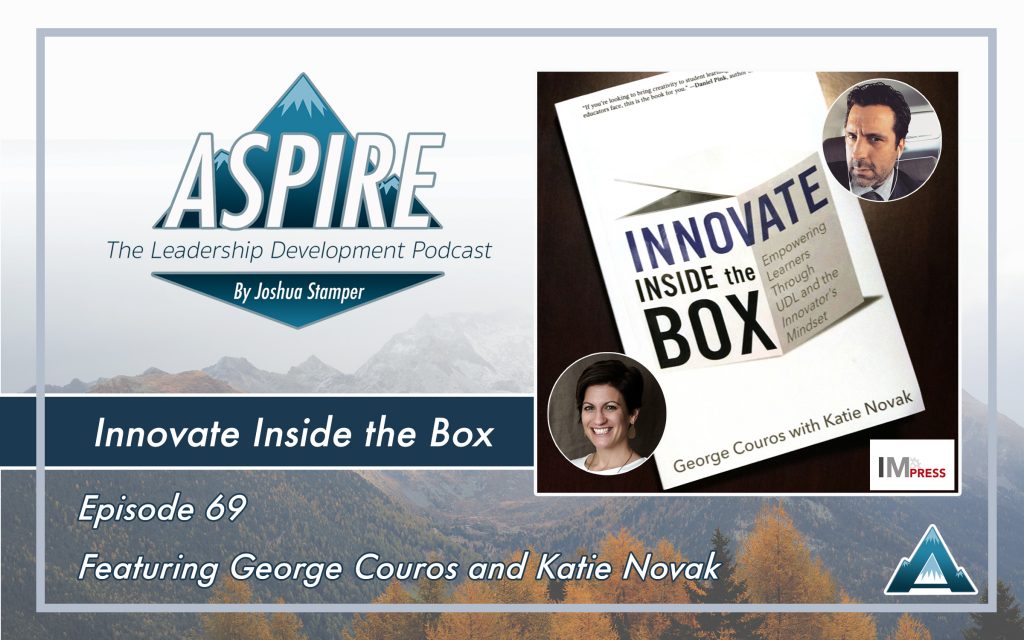 As a leader, have you ever felt it's impossible to create an innovative space or system for student to learn and create? I know over the years, I have definitely struggled to break the cycle of traditional practices. Today, I have two experts on Innovation, George Couros and Katie Novak, and they just wrote an amazing book called, "Innovate Inside the Box": Empowering Learners through the UDL and Innovator's mindset. I can't wait to share this incredible wealth of knowledge on the Aspire podcast!
George Couros is a leading educator in the area of innovative leadership, teaching, and learning. He has worked with all levels of school–from K-12 as a teacher and technology facilitator, school and district administrator, and is the author of the book "The Innovator's Mindset; Empower Learning, Unleash Talent, and Lead a Culture of Creativity." He is a sought after speaker on the topic of innovative student learning and engagement and has worked with schools and organizations around the globe. George is also the creator of Connected Principals.com, an initiative that brings educators and leaders together from around the world to create powerful learning opportunities for students.
Katie Novak, Ed.D. is an internationally renowned education consultant as well as a practicing leader in education as an Assistant Superintendent of Schools at the Groton-Dunstable Regional School District in Massachusetts. With 16 years of experience in teaching and administration, an earned doctorate in curriculum and teaching, and 4 books published by CAST Professional Publishing, (and 3 forthcoming in 2019) Katie designs and presents workshops both nationally and internationally focusing on implementation of Universal Design for Learning (UDL) and universally designed leadership. Dr. Novak is the author of the best-selling book, Revised and Expanded Edition: UDL Now! A Teacher's Guide to Applying Universal Design for Learning in Today's Classrooms.
Follow George Couros
:
Follow Katie Novak:
Resources Mentioned in the Podcast:
5 Questions to Ask Your Students To Start the School Year
Learn More About Innovation
Follow Joshua Stamper:
Join the Conversation
My favorite part of recording a podcast each week is participating in the great conversations that happen on social media and in our comments section. Please use the #AspireLead hashtag as you continue the conversation on social media. 
If you've gotten any value from this show at all, please subscribe and leave a rating and review wherever you're listening. The ranking of this show is 100% tied to subscriptions and reviews. You can help us reach more school leaders by subscribing to the show and leaving an honest rating and review. 
Explore These Resources to Enhance Your Leadership Skills!
Go Community!
This community is one of my favorite one-stop-shop tools to engage with other amazing school leaders. I use this online resource to gain insight, gather resources, and develop my leadership capacity.
The #1 Leadership Online community is generous and authentic, an antidote to the clutter and noise that other social media sites have become.
What makes this community different is that it is:
An investment, not free
A private community with the same goal
A conversation, not a variety of self-promoting presentations
Evergreen, not ephemeral
Focused on serving school leaders, not advertisers, companies, or investors
I highly recommend using Go! Community to enhance your leadership skills!
---
This post contains affiliate links.
When you make a purchase through these links, The Aspire Podcast gets a small percentage of the sale at no extra cost to you.
---
Need a Presenter for a conference or school PD?
Aspire Stickers now available!