Evolving Education: Featuring Dr. Katie Martin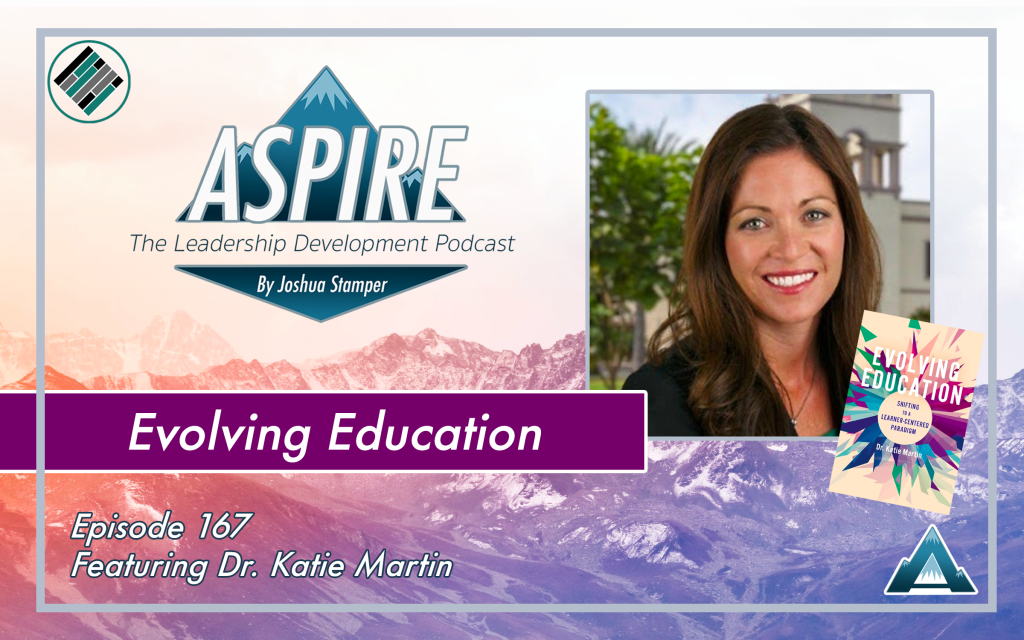 It's time to leave behind practices that don't best serve all learners and educators, and to prioritize what matters most: relationships, connection, purpose, flexibility, agency, and authentic learning. Education must evolve. Looking to learners will help us see what's working, what's challenging, and, ultimately, what's possible. To ensure that all of those learners thrive, we'll need to use insight from our own experiences, research from the field, and new tools and approaches to adapt our practices.
This week's guest, Dr. Katie Martin, advocates for a much-needed shift to a learner-centered teaching model. Learner-centered education creates purposeful, personalized, authentic, and competency-based experiences that help students develop skills that empower them to learn, grow, and solve problems that matter to them and others. 
In this episode, we also discuss:
Instructional Practices that Enhance Essential Skills 

Changing Grading Practices

And Katie's New Book,

Evolving Education
About Dr. Katie Martin:
Dr. Katie Martin is the author of Evolving Education and Learner-Centered Innovation. She has served as a middle school English language arts teacher, instructional coach, and led the district's new teacher mentoring program. She teaches in the graduate school of Education at High Tech High and is on the board of Real World Scholars.  Dr. Martin is the Chief Impact Officer at Learner-Centered Collaborative and works in diverse contexts to learn, research, and support authentic and purposeful learning for all students
As a mom, she wants her kids to have learning experiences in school that build on their strengths and interests, and as an educator; she is passionate about making sure we do the same for all kids.
Follow Dr. Katie Martin:
Website: www.KatieLMartin.com 
Twitter: @katiemartinedu
Instagram: @katiemartinedu
Facebook: @katiemartinedu
Linkedin: https://www.linkedin.com/in/katie-martin-42805714/ 
Other: www.LearnerCentered.org 
Are you a superfan of the Aspire podcast? Well, now you can show off your support with the new Aspire swag, featuring tee shirts, hoodies and a variety of drinkware. You can find all your Aspire Swag at www.teachbetter.com/swag
Use Discount Code: ASPIRE for 25% OFF
Tee-Shirts, Hoodies, and Drinkware: ASPIRE: The Leadership Development Podcast
This post contains affiliate links.
When you make a purchase through these links, The Aspire Podcast gets a small percentage of the sale at no extra cost to you.
Need a Presenter for a conference or school PD?
Contact Joshua Stamper  for presentations on Restorative Practices, Leadership Development, and Innovative campus systems.
Watch my session on Trauma Informed, restorative and social emotional practices at www.teachsummit.com/stamper
Follow the Host, Joshua Stamper:
Aspire to Lead made it to the Best New Education Books
BookAuthority collects and ranks the best books in the world, and it is a great honor to get this kind of recognition. Thank you for all your support! The book is available for purchase on Amazon.
Review the Podcast
I want to give a huge shout out to those who have taken the time to provide a review on Apple, Spotify or any other podcast platform. It truly means the world to me that you would take the 30- 90 seconds to share how the podcast has positively impacted you or why other educators should check out the show.