Esports Education Playbook: Featuring Jesse Lubinsky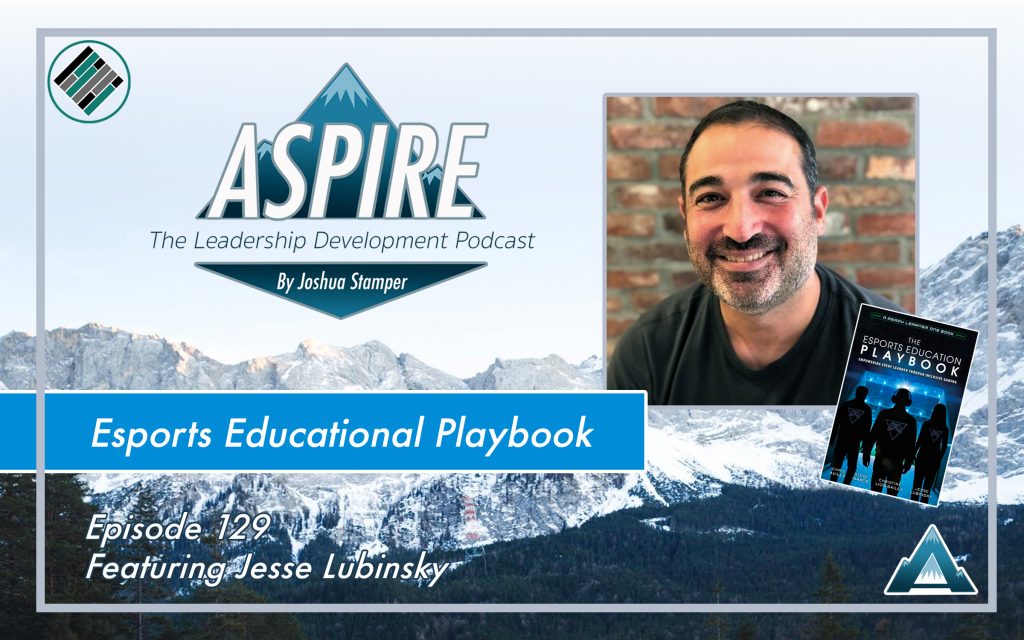 As our educational setting has shifted dramatically in a short period of time, the teaching strategies and educational tools needed to be successful have pushed educators to discover new ways to provide information and collaborate. This week's guest, Jesse Lubinsky, shares some exciting emerging technology and innovative solutions to enhance student exploration, creativity and risk taking.    
In this Episode, we discuss:
The Benefits of Esports in Schools

AR and VR Tools in the Classroom

Ready Learner One Programs to Support Teachers with Technology

And Jesse's books, "The Esports Education Playbook" and "Reality Bytes"
About Jesse Lubinsky:
Jesse is currently the Chief Learning Officer for Ready Learner One LLC. He is an education technologist, teacher, and former school administrator based out of Westchester County in New York. Prior to entering the learning space, he was a technology consultant for Fortune 500 companies specializing in network engineering and software development projects.  Jesse is co-author of Reality Bytes: Innovative Learning Using Augmented and Virtual Reality and The Esports Education Playbook: Empowering Every Learner Through Inclusive Gaming. He has also been published in the books The Chromebook Infused Classroom, High-Tech Teaching Success! A Step by Step Guide to Using Innovative Technology in Your Classroom and Fueled by Coffee and Love: A Brew Perspective.
Jesse was named one of BestCollegeRankings.org's 100 Top Experts in #eLearning and #EdTech as well as a Top 100 K12 Tech Leader and Top 100 Most Social CIO by Extreme Networks. He has received a Technology Leader Pioneer Award from the Lower Hudson Regional Information Center. A Google for Education Certified Innovator and Trainer,  Jesse is also co-founder of NY TECH ED, an organization centered around instructional technology use, and a former co-chair of NYTEN, a regional group focused on technology leadership.
He is a CoSN Certified Education Technology Leader, an Adjunct Professor of Education Technology at Pace University, a member of the Google Earth Education Experts team, and a frequent keynote speaker and presenter who has recently done educational technology presentations across North America, Europe, Asia, the Middle East, the Caribbean, and Australia. He also has a Bacon Number of 3. Jesse is also co-host of the Partial Credit Podcast and the Ready Learner One Lounge, a virtual reality show focused on innovations in teaching and learning.
Follow Jesse Lubinsky:
Website: http://jesselubinsky.com and http://readylearner.one
Twitter: @jlubinsky
Instagram: @jlubinsky
Facebook: jlubinsky
Linkedin: jesselubinsky
Partial Credit Podcast: http://partial.credit
NEW Aspire Swag with Discount Code: ASPIRE 
Tee Shirts and Drinkwear:
ASPIRE: The Leadership Development Podcast
This post contains affiliate links.
When you make a purchase through these links, The Aspire Podcast gets a small percentage of the sale at no extra cost to you.
Need a Presenter for a conference or school PD?
Contact Joshua Stamper  for presentations on Restorative Practices, Leadership Development, and Innovative campus systems.
Watch my session on Trauma Informed, restorative and social emotional practices at www.teachsummit.com/stamper
Follow the Host, Joshua Stamper:
Review the Podcast
The ranking of this show is 100% tied to subscriptions and reviews. You can help me reach more school leaders by subscribing to the show and leaving an honest rating and review on your favorite podcast platform.