Empowering New Leaders: Answers to Your Burning Questions featuring Darrin Peppard and Joshua Stamper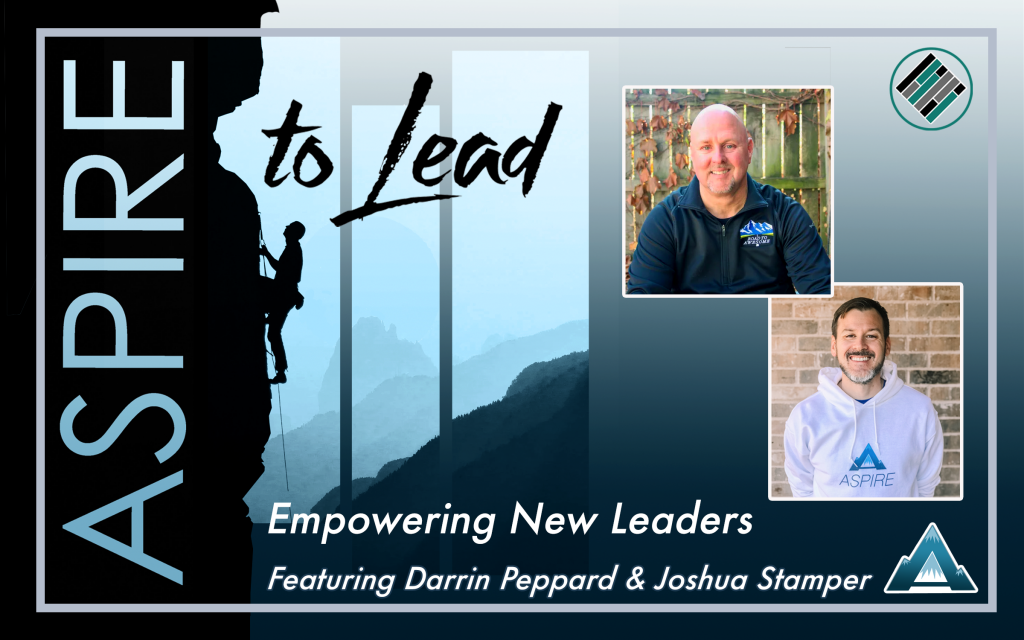 Tune in to this enlightening bonus episode of "Aspire to Lead," where Darrin Peppard and Joshua Stamper team up to provide invaluable insights and guidance to new leaders. If you're navigating the path of leadership or seeking to empower emerging leaders within your circles, this episode is a must-listen.
Remember, leadership is a journey, and on this bonus episode, you'll find the guidance and encouragement you need to set out on the path to leadership excellence. Subscribe now and join us for this empowering conversation on "Aspire to Lead."
About Darrin Peppard
:
Darrin Peppard is a keynote speaker, author, publisher and consultant focused on what matters most in leadership. Darrin is an expert in school culture and climate as well as coaching and growing emerging leaders. He is known for his keen insight, culture-first leadership style, and dynamic personality.
In 2016, Darrin was named Wyoming Secondary School Principal of the Year by WASSP/NASSP and was the 2015 Jostens Renaissance Educator of the Year. In 2017, Darrin earned his Doctorate Degree in Educational Leadership from the University of Wyoming. In the summer of 2019, Darrin was inducted into the Jostens Renaissance Hall of Fame. 
Darrin shares his experiences from over 25 years in education, specifically those learned as an education leader during the past 13 years. As a 'recovering' high school principal, Darrin talks about lessons learned and effective strategies to help leaders of all experience levels become more effective at their craft.
Follow Darrin Peppard
Supporting the Podcast!
Have you ever thought about supporting the Aspire to Lead podcast? For just $5 a month, you can help me continue to create and produce valuable content for aspiring leaders in education.
I understand that everyone has their own preferences and budgets, so if $5 a month isn't feasible for you, no worries! The podcast will always be available to listen to for free. However, if you do find value in the podcast and can afford to contribute, your support would mean the world to me. By contributing, you're enabling me to continue doing what I love and providing you with quality content.
Thank you for considering supporting the Aspire to Lead podcast . Your contribution, no matter how small, is greatly appreciated
https://aspiretoleadpodcast.captivate.fm/support 
Need a Presenter for a conference or school PD?
Contact Joshua Stamper  for presentations on Restorative Practices, Leadership Development, and Innovative campus systems.
Watch my session on Trauma Informed, restorative and social emotional practices at www.teachsummit.com/stamper
Follow the Host, Joshua Stamper:
Contact: https://joshstamper.com/contact/
Twitter: www.twitter.com/Joshua__Stamper
Instagram: www.instagram.com/joshua__stamper
Linkedin: www.linkedin.com/in/joshua-stamper
Facebook: https://www.facebook.com/AspirePodcast
Subscribe: https://podcasts.apple.com/us/podcast/aspire-the-leadership-development-podcast/id1384210762?mt=2
Aspire to Lead Won the FireBird Award!
I'm happy to announce that my book, "Aspire to Lead", won the 2022 Leadership Book Award from Speak Up Talk Radio! 
It is a great honor to get this kind of recognition and I really appreciate all your support!
The book is available for purchase on Amazon.
Review the Podcast
I want to give a huge shout out to those who have taken the time to provide a review on Apple, Spotify or any other podcast platform. It truly means the world to me that you would take the 30- 90 seconds to share how the podcast has positively impacted you or why other educators should check out the show.
This post contains affiliate links. When you make a purchase through these links, The Aspire Podcast gets a small percentage of the sale at no extra cost to you.