Deconstructing Depth of Knowledge: Featuring Erik Francis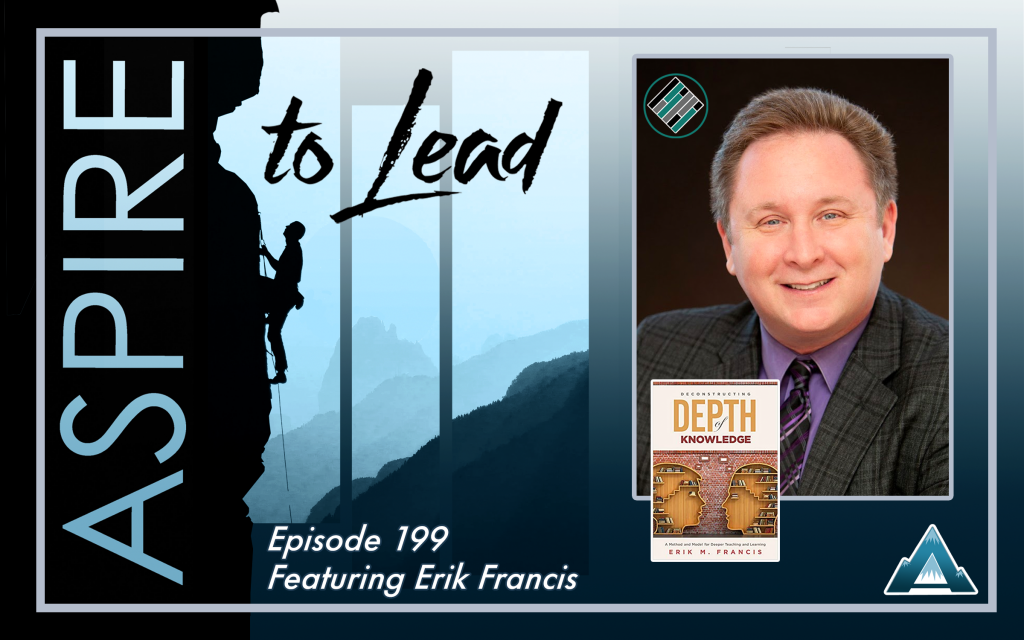 This week's guest, Erik Francis, shares how depth of knowledge and questioning is the missing link in education. Join us as we break down the stages of depth of knowledge and how you can incorporate multiple strategies into your classroom.    
In this episode, we discuss:
Inquiry based instruction

Changing the way we view education

And his Newly Released Book,

Deconstructing Depth of Knowledge: A Method and Model for Deeper Teaching and Learning 
About Erik Francis:
Erik M. Francis, M.Ed., M.S., is an international author, educator, presenter, and professional development provider with over 25 years of experience in education. He is the author of Deconstructing Depth of Knowledge: A Method and Model for Deeper Teaching and Learning published by Solution Tree. He is also the author of Now That's a Good Question! How to Promote Cognitive Rigor Through Classroom Questioning published by ASCD.. Erik is the owner of Maverik Education, providing professional development, guidance, and support on how to develop and deliver teaching and learning experiences that are standards-based, socially and emotionally supportive, and student responsive. He is also consistently ranked as one of the World's Top 30 Education Professionals by the international research organization Global Gurus
Follow Erik Francis:
NEW Aspire Swag with Discount Code: ASPIRE 
Tee-Shirts and Drinkware:
ASPIRE: The Leadership Development Podcast
This post contains affiliate links.
When you make a purchase through these links, The Aspire Podcast gets a small percentage of the sale at no extra cost to you.
Need a Presenter for a conference or school PD?
Contact Joshua Stamper  for presentations on Restorative Practices, Leadership Development, and Innovative campus systems.
Watch my session on Trauma Informed, restorative and social emotional practices at www.teachsummit.com/stamper
Follow the Host, Joshua Stamper:
Contact: https://joshstamper.com/contact/
Twitter: www.twitter.com/Joshua__Stamper
Instagram: www.instagram.com/joshua__stamper
Linkedin: www.linkedin.com/in/joshua-stamper
Facebook: https://www.facebook.com/AspirePodcast
Subscribe: https://podcasts.apple.com/us/podcast/aspire-the-leadership-development-podcast/id1384210762?mt=2
Aspire to Lead made it to the Best New Education Books
I'm happy to announce that my book, "Aspire to Lead", made it to BookAuthority's Best New Education Books.
BookAuthority collects and ranks the best books in the world, and it is a great honor to get this kind of recognition. Thank you for all your support!
The book is available for purchase on Amazon.
Review the Podcast
I want to give a huge shout out to those who have taken the time to provide a review on Apple, Spotify or any other podcast platform. It truly means the world to me that you would take the 30- 90 seconds to share how the podcast has positively impacted you or why other educators should check out the show.