238. The Playbook for Student Success in the Digital World: Featuring Stacey Cohen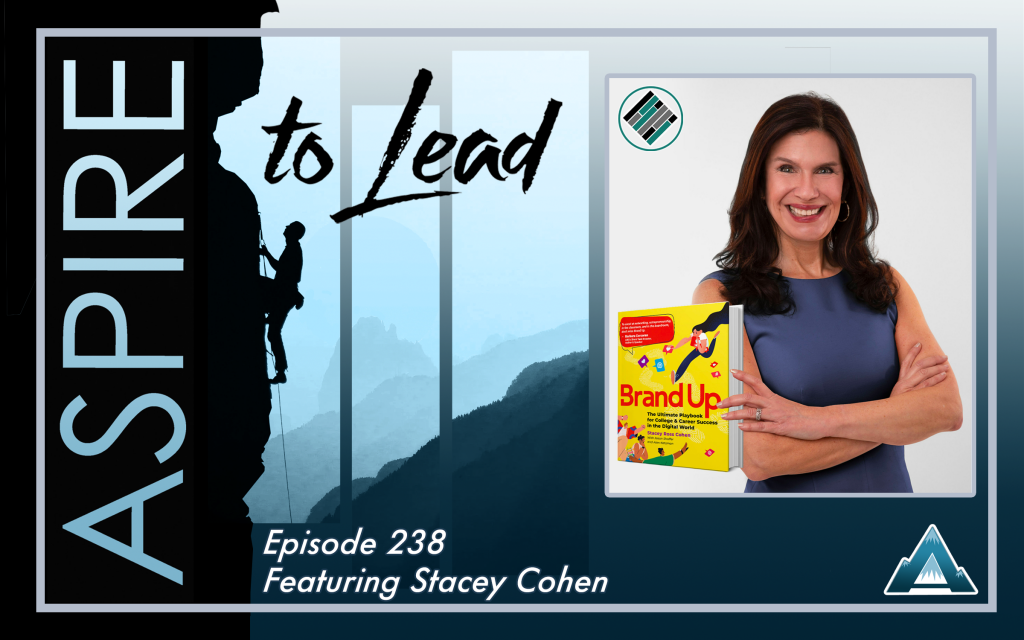 In this week's Aspire to lead episode, Stacey Cohen shares the modern playbook that equips teens with strategies and tools to succeed in high school, college, and their first job. This episode is packed with sage advice, practical tips and in-depth skill-building guidance for networking, interviewing, entrepreneurship, and social media.
In this episode, we discuss:
Building your students a positive digital footprint

Teaching students how to interview and professional norms

And her new book,

Brand Up: The Ultimate Playbook for College & Career Success in the Digital World!
About Stacey Cohen:
In the world of branding, few experts possess the savvy and instinct of Stacey Ross Cohen. An award-winning brand professional who earned her stripes on Madison Avenue and at major television networks before launching her own agency, Stacey specializes in "everything" branding. She is the CEO and founder of Co-Communications, a public relations, marketing, and design agency headquartered in New York. Since 1998, Stacey has coached individuals and businesses across various industries – from real estate and health care to education and professional services – and expertly positions their narratives in fiercely competitive markets. A staple at industry conferences, Stacey recently made her debut on the TEDx stage. She is a contributor at the Huffington Post and Entrepreneur and has been featured in Forbes, Crain's Entrepreneur, and a suite of other national media. She holds a BS from Syracuse University, an MBA from Fordham University, and a certificate in Media, Technology, and Entertainment from NYU Leonard Stern School of Business. 
Stacey is an entrepreneur at heart: She started her first business when she was just 14 years old and is now a member of a prominent angel investor group. Standing out has always been a matter of course for her. As a twin, Stacey's struggle to cultivate her own identity made her more sensitive to the need to develop uniqueness. The book draws on Stacey's 25-plus years of experience building both personal and business brands. She is extremely passionate about helping high school students cultivate, perfect, and activate their personal brand to become tomorrow's leaders.
Follow Stacey Cohen:
Official Sponsor of the Aspire to Lead Podcast!
As a passionate coffee drinker, I am always looking for the best cup of premium coffee. Once Leslie and I tasted Papa Rob's Coffee, we instantly fell in love with the flavor of the Espresso Special Blend. Papa Rob's Coffee is the only coffee we drink and I'm proud to have them as the exclusive sponsor of the podcast!
Papa Rob's Roasting Company was started to pass on the love for premium coffee that is as fresh as it is delicious! Rob sources only the finest green coffee beans from around the world and then roasts them to perfection upon order in small batches, so that they will always be at their peak flavor and freshness. One taste and you will experience the difference!
Make sure you use the coupon code "Aspire15" to save 15% off your order!
Supporting the Podcast!
Have you ever thought about supporting the Aspire to Lead podcast? For just $5 a month, you can help me continue to create and produce valuable content for aspiring leaders in education.
I understand that everyone has their own preferences and budgets, so if $5 a month isn't feasible for you, no worries! The podcast will always be available to listen to for free. However, if you do find value in the podcast and can afford to contribute, your support would mean the world to me. By becoming a patron, you're enabling me to continue doing what I love and providing you with quality content.
Thank you for considering supporting the Aspire to Lead podcast on Patreon. Your contribution, no matter how small, is greatly appreciated
https://patreon.com/AspiretoLead 
Need a Presenter for a conference or school PD?
Contact Joshua Stamper  for presentations on Restorative Practices, Leadership Development, and Innovative campus systems.
Watch my session on Trauma Informed, restorative and social emotional practices at www.teachsummit.com/stamper
Follow the Host, Joshua Stamper:
Contact: https://joshstamper.com/contact/
Twitter: www.twitter.com/Joshua__Stamper
Instagram: www.instagram.com/joshua__stamper
Linkedin: www.linkedin.com/in/joshua-stamper
Facebook: https://www.facebook.com/AspirePodcast
Subscribe: https://podcasts.apple.com/us/podcast/aspire-the-leadership-development-podcast/id1384210762?mt=2
Aspire to Lead Won the FireBird Award!
I'm happy to announce that my book, "Aspire to Lead", won the 2022 Leadership Book Award from Speak Up Talk Radio! 
It is a great honor to get this kind of recognition and I really appreciate all your support!
The book is available for purchase on Amazon.
Review the Podcast
I want to give a huge shout out to those who have taken the time to provide a review on Apple, Spotify or any other podcast platform. It truly means the world to me that you would take the 30- 90 seconds to share how the podcast has positively impacted you or why other educators should check out the show.
This post contains affiliate links. When you make a purchase through these links, The Aspire Podcast gets a small percentage of the sale at no extra cost to you.