Bonus Episode: The Failure Files with Frederick Buskey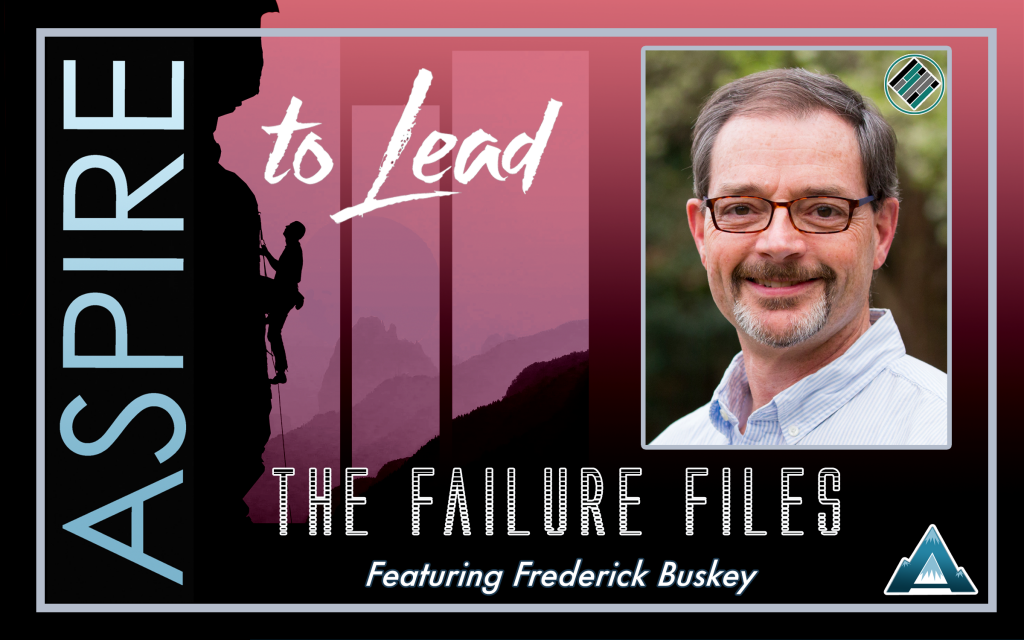 In this new BONUS episode, we learn from Frederick's story of failure as he missed opportunities to have a crucial conversation with a special education teacher. Join us as we work through the resolution and the lesson learned through this misstep.  
About Frederick Buskey:
Frederick is the founder of Strategic Leadership Consulting, and the host of The Assistant Principal Podcast. He is passionate about improving life and leadership for school leaders by making complex ideas simple and building the mindset, structures, and skills to help school leaders focus on supporting and growing teachers. Frederick uses his experiences and understanding of research to inform practical ideas and strategies for busy leaders. His 30+ years of educational experience include being a National Board Certified Teacher, entry-year teacher program coordinator, and 13 years as a researcher and principal licensure program coordinator at Western Carolina University and Clemson University. He lives and plays in the mountains of Western North Carolina and is a happy husband and father to four grown offspring.
Follow Frederick Buskey:
New OFFICIAL Sponsor of the Aspire to Lead Podcast!
As a passionate coffee drinker, I am always looking for the best cup of premium coffee. Once Leslie and I tasted Papa Rob's Coffee, we instantly fell in love with the flavor of the Espresso Special Blend. Papa Rob's Coffee is the only coffee we drink and I'm proud to have them as the exclusive sponsor of the podcast!
Papa Rob's Roasting Company was started to pass on the love for premium coffee that is as fresh as it is delicious! Rob sources only the finest green coffee beans from around the world and then roasts them to perfection upon order in small batches, so that they will always be at their peak flavor and freshness. One taste and you will experience the difference!
Make sure you use the coupon code "Aspire15" to save 15% off your order!
Aspire Swag with Discount Code: ASPIRE 
Tee-Shirts and Drinkware:
ASPIRE: The Leadership Development Podcast
This post contains affiliate links.
When you make a purchase through these links, The Aspire Podcast gets a small percentage of the sale at no extra cost to you.
Need a Presenter for a conference or school PD?
Contact Joshua Stamper  for presentations on Restorative Practices, Leadership Development, and Innovative campus systems.
Watch my session on Trauma Informed, restorative and social emotional practices at www.teachsummit.com/stamper
Follow the Host, Joshua Stamper:
Contact: https://joshstamper.com/contact/
Twitter: www.twitter.com/Joshua__Stamper
Instagram: www.instagram.com/joshua__stamper
Linkedin: www.linkedin.com/in/joshua-stamper
Facebook: https://www.facebook.com/AspirePodcast
Subscribe: https://podcasts.apple.com/us/podcast/aspire-the-leadership-development-podcast/id1384210762?mt=2
Aspire to Lead Won the FireBird Award!
I'm happy to announce that my book, "Aspire to Lead", won the 2022 Leadership Book Award from Speak Up Talk Radio! 
It is a great honor to get this kind of recognition and I really appreciate all your support!
The book is available for purchase on Amazon.
Review the Podcast
I want to give a huge shout out to those who have taken the time to provide a review on Apple, Spotify or any other podcast platform. It truly means the world to me that you would take the 30- 90 seconds to share how the podcast has positively impacted you or why other educators should check out the show.