202. Be GREAT: Featuring Dwight Carter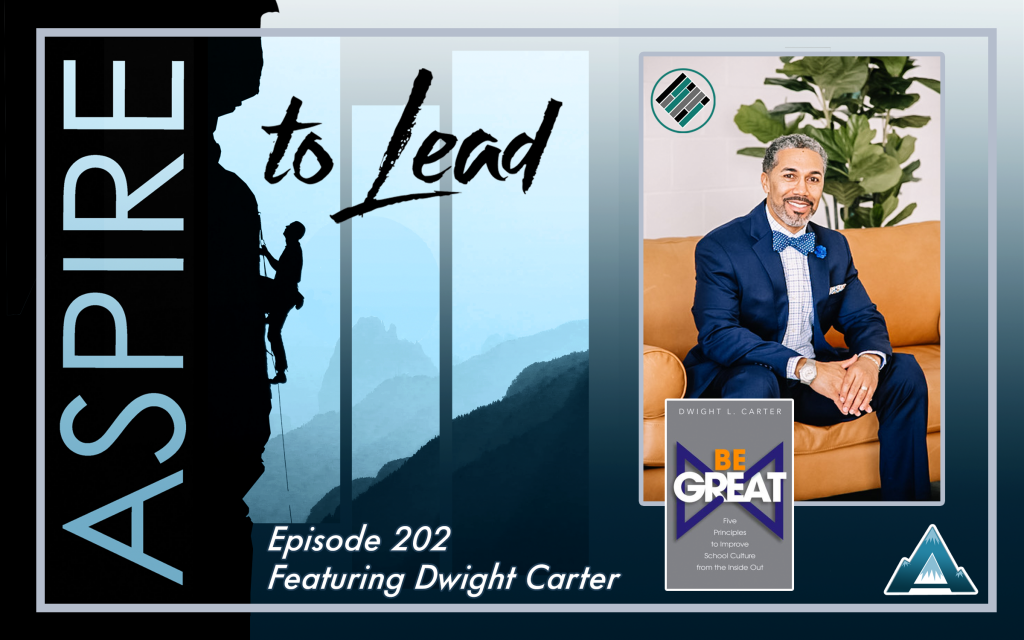 This week's guest, Dwight Carter, shares how the motto "Be GREAT" changed his mindset, school culture assessment, and trajectory of his leadership journey. Join us as we explore Dwight's new district position and new book, Be Great!  
In this episode, we discuss:
Assessing School and District Culture

Gratitude Techniques

And his new book,

Be Great: Five Principles to Improve School Culture from the Inside Out
About Dwight Carter:
Dwight Carter is a nationally recognized school leader from Central OH. Because of his collaborative and innovative leadership, in 2010, he was inducted into the Jostens Renaissance Educator Hall of Fame. He was also named a 2013 National Association of Secondary School Principals Digital Principal of the Year, the 2014 Academy of Arts and Science Education High School Principal of the Year, the 2015 Ohio Alliance of Black School Educators Principal of the Year, and the 2021 Columbus Africentric Early College Sankofa Emerging Leader.  He is currently the Director of Student Support Systems for the Eastland-Fairfield Career and Technical School District. 
He is the co-author of What's In Your Space? Five Steps to Better School and Classroom Design (Corwin, 2016), Leading Schools in Disruptive Times: How to Survive Hyper-change (Corwin 2018/2021); and a contributing author to Because of a Teacher: Stories of the Past to Inspire the Future of Education written and curated by George Couros. His first solo book, Be GREAT: Five Principles to Improve School Culture from the Inside Out, was just published on July 16th (IMPres, 2022). Additionally, he has contributed to several educational books and articles.  
Follow Dwight Carter:
NEW Aspire Swag with Discount Code: ASPIRE 
Tee-Shirts and Drinkware:
ASPIRE: The Leadership Development Podcast
This post contains affiliate links.
When you make a purchase through these links, The Aspire Podcast gets a small percentage of the sale at no extra cost to you.
Need a Presenter for a conference or school PD?
Contact Joshua Stamper  for presentations on Restorative Practices, Leadership Development, and Innovative campus systems.
Watch my session on Trauma Informed, restorative and social emotional practices at www.teachsummit.com/stamper
Follow the Host, Joshua Stamper:
Contact: https://joshstamper.com/contact/
Twitter: www.twitter.com/Joshua__Stamper
Instagram: www.instagram.com/joshua__stamper
Linkedin: www.linkedin.com/in/joshua-stamper
Facebook: https://www.facebook.com/AspirePodcast
Subscribe: https://podcasts.apple.com/us/podcast/aspire-the-leadership-development-podcast/id1384210762?mt=2
Aspire to Lead made it to the Best New Education Books
I'm happy to announce that my book, "Aspire to Lead", made it to BookAuthority's Best New Education Books.
BookAuthority collects and ranks the best books in the world, and it is a great honor to get this kind of recognition. Thank you for all your support!
The book is available for purchase on Amazon.
Review the Podcast
I want to give a huge shout out to those who have taken the time to provide a review on Apple, Spotify or any other podcast platform. It truly means the world to me that you would take the 30- 90 seconds to share how the podcast has positively impacted you or why other educators should check out the show.