Back to Normal or Back to Better: Featuring Tom Burton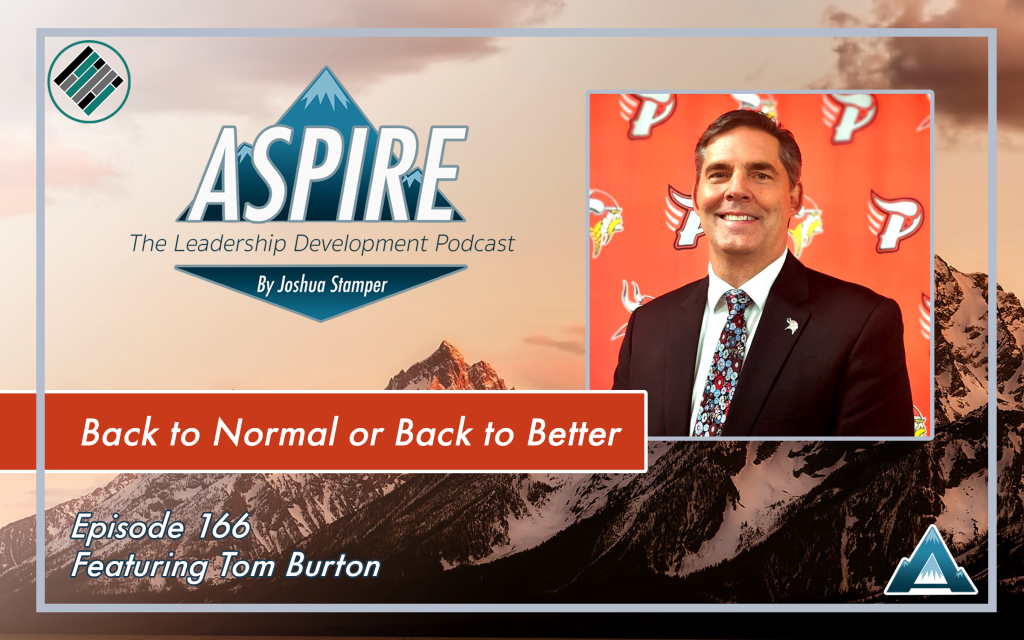 After two years of new educational practices, are we trying to get back to normal or a way to get better? This week's guest, Tom Burton, shares how going back to the way things were is not the best mindset. In his district, during the pandemic, they uncovered many inequitable practices that needed to be addressed and they are determined to find better practices moving forward. 
In this episode, we also discuss:
Creating diverse leadership teams

Leading regardless of your title

And partnering with businesses to serve the community 
About Tom Burton:
Mr. Tom Burton is the Superintendent of Princeton City Schools, located just outside of Cincinnati, Ohio. Tom has been in administration since 1995 and has been in the Princeton district since 2015.  He is the author of "Mark of Leadership: Strategies for Leading with Purpose, Plans, and Passion." Additionally, Tom has written articles for publications both in Ohio and nationally and a columnist for Middle Ground Magazine.

As superintendent, Tom lives out the Princeton mission to empower each student for college, career, and life success.  He celebrates the achievements of all students. His Business and Community Partnership Quarterly Breakfasts connect students with business leaders and foster conversations about the students' courses and interests generating conversations about post-high school education and occupations.  Tom has been actively pursuing business/community partnerships and most recently hosted over 120 business community leaders at the quarterly breakfast.  Along with a talented staff, he is proud of the major increase in participation and looks forward to hosting over 200 leaders in the near future.
Tom's support for the recently passed Ohio Alternate Pathways for Graduation and newly created Princeton Work Ethics Certificate is addressing the needs of students entering the workforce after high school.  In addition, Tom is encouraging internships at local businesses. "The business community is critical to Princeton as Princeton is critical to the business community.  Working together we each ensure that the future is strong not only for the district and region but the state and country as well."
In July 2021, Tom was elected as one of three new members of the Federal Reserve Bank of Cleveland's Educational Advisory Council. In this role, he will participate in discussions to help guide future strategies and inform the Education and Museum Outreach department's effectiveness. He will make recommendations, provide feedback, and perspectives on community outreach, engagement, programming, curriculum, and technology.  Members are selected for this appointment for the value they place on the role of education, critical thinking, and lifelong learning.
He was named the 2018 Business Person of the Year through the Sharonville Chamber of Commerce.  Further, Tom was the winner of NASSP/MetLife Ohio Middle School Principal of the Year, Distinguished Young Alumni Award from Slippery Rock University. Additionally, he was selected as the recipient of the Gordan Vars Lifetime Achievement Award, Ohio Educator of the Year by the Ohio Middle Level Association and was inducted in both the Cleveland Heights High School Distinguished Alumni Hall of Fame and John Carroll University Athletic Hall of Fame.
Tom is married to wife Franca, and they share the joy of raising three children, Cailey (2017 Princeton Graduate), Bryce (2019 Princeton Graduate), and Tommy (Class of 2022) as residents in Sharonville.
Follow Tom Burton:
Website: www.princetonschools.net  
Twitter: https://twitter.com/VikingDiffSuper 
Instagram: https://www.instagram.com/vikingdiff1/ 
Facebook:  Princeton City Schools 
Linkedin:  Tom Burton
YouTube: PrincetonVikings
Are you a superfan of the Aspire podcast? Well, now you can show off your support with the new Aspire swag, featuring tee shirts, hoodies and a variety of drinkware. You can find all your Aspire Swag at www.teachbetter.com/swag
Use Discount Code: ASPIRE for 25% OFF
Tee-Shirts, Hoodies, and Drinkware: ASPIRE: The Leadership Development Podcast
This post contains affiliate links.
When you make a purchase through these links, The Aspire Podcast gets a small percentage of the sale at no extra cost to you.
Need a Presenter for a conference or school PD?
Contact Joshua Stamper  for presentations on Restorative Practices, Leadership Development, and Innovative campus systems.
Watch my session on Trauma Informed, restorative and social emotional practices at www.teachsummit.com/stamper
Follow the Host, Joshua Stamper:
Review the Podcast
I want to give a huge shout out to those who have taken the time to provide a review on Apple, Spotify or any other podcast platform. It truly means the world to me that you would take the 30- 90 seconds to share how the podcast has positively impacted you or why other educators should check out the show.