Aspire Collaborative Conversation: Featuring Michael Earnshaw and Joshua Buckley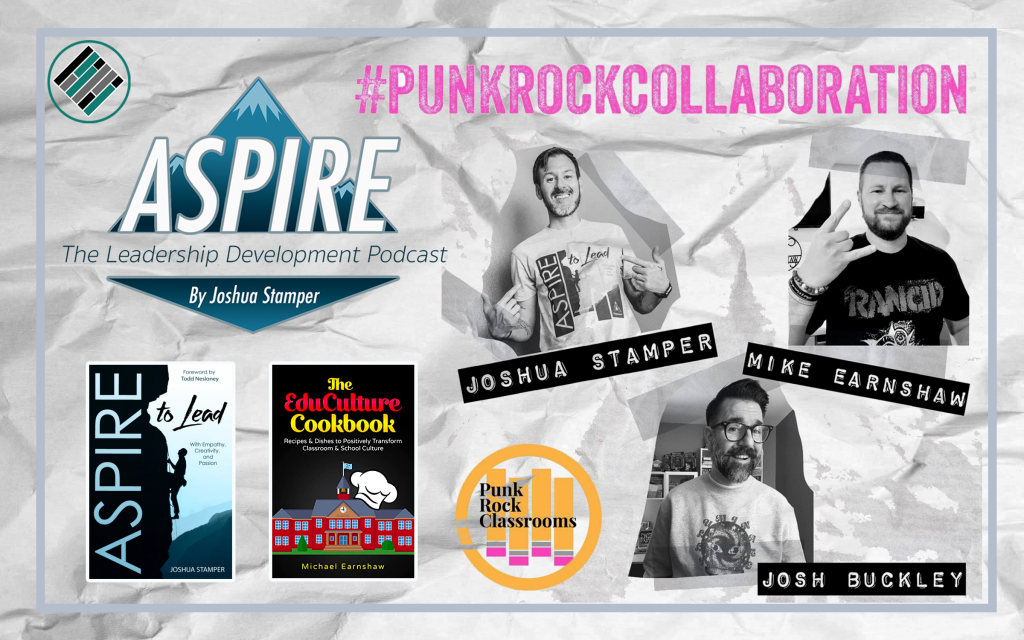 With the launch of The EduCulture Cookbook and Aspire to Lead, The Punk Rock podcasters joins me to share about leadership qualities and school culture.
In this Episode, we also discuss:
The Reflections Process as a Leader
And the "EduCulture Cookbook" and "Aspire to Lead"
About Michael Earnshaw:
Michael Earnshaw, The Punk Rock Principal, is helping to change the game of education. By implementing a mobile office, Mr. Earnshaw has been able to be "all in" working with students and staff. Mike builds relationships with all and pushes staff to get out of their comfort zones and bring meaningful learning experiences to their students. This has helped to keep staff retention at a high, a collaborative productive culture, and student success climbing.
Follow Michael Earnshaw:
Twitter: https://twitter.com/EduChefEarnshaw
Instagram: https://www.instagram.com/educhefearnshaw/?hl=en
About Joshua Buckley
Joshua Buckley is a social studies teacher in Mesa Arizona where he currently teaches AP Macroeconomics and Economics. He also serves as the president of his local teachers union. When not fighting the man or teaching about the Phillips Curve he co-hosts the Punk Rock Classrooms podcast with Mike Earnshaw. Their goal is to bring the punk rock ethos of Passion, Unity, and DIY to the Classrooms
Follow Joshua Buckley:
Twitter: https://twitter.com/JoshRBuckley
Instagram: https://www.instagram.com/joshrbuckley/?hl=en
Follow The Punk Rock Classroom Podcast: 
This post contains affiliate links.
When you make a purchase through these links, The Aspire Podcast gets a small percentage of the sale at no extra cost to you.
Follow the Host, Joshua Stamper:
Aspire to Lead made it to the Best New Education Books
I'm happy to announce that my book, "Aspire to Lead", made it to BookAuthority's Best New Education Books:
BookAuthority collects and ranks the best books in the world, and it is a great honor to get this kind of recognition. Thank you for all your support!
The book is available for purchase on Amazon.
Review the Podcast
I want to give a huge shout out to those who have taken the time to provide a review on Apple, Spotify or any other podcast platform. It truly means the world to me that you would take the 30- 90 seconds to share how the podcast has positively impacted you or why other educators should check out the show.