When Kids Lead: Featuring Todd Nesloney and Adam Dovico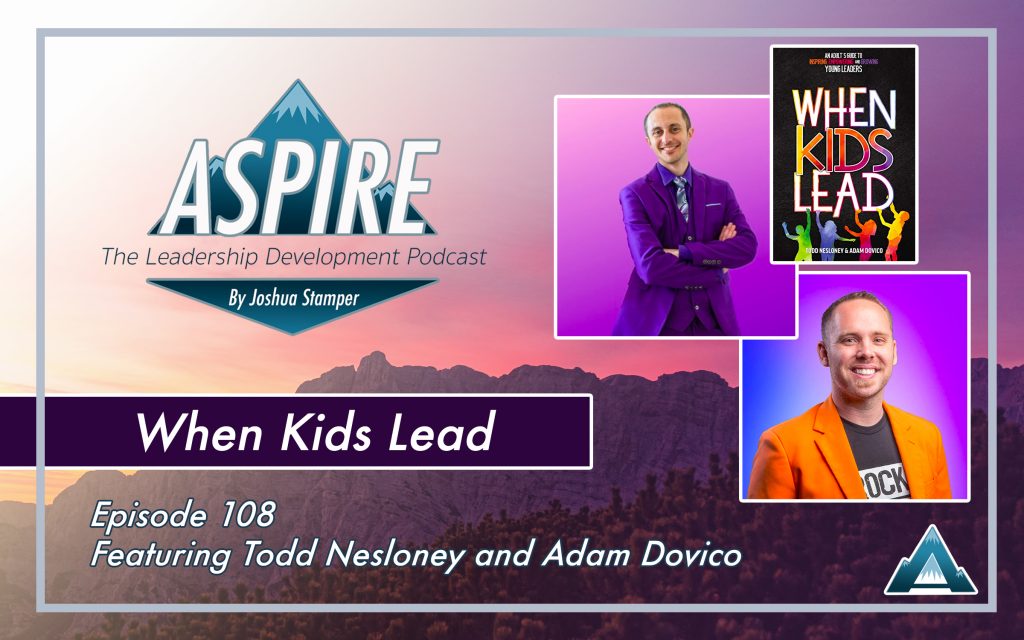 On your campus or in your district, how do you allow students to lead? After reflecting on this question myself, I realized that I needed to learn more about this topic so I found a great resource to gain more student leadership strategies. I'm excited to have the authors of the new book "When Kids Lead", Todd Nesloney and Adam Dovico, on the podcast to share about how to create future student and adult leaders!
In this Episode, we discuss:
Student Leadership Characteristics

Roles for New Leaders

Essential Skills for student Leaders

And Get Your Lead On
About Todd Nesloney:
Todd Nesloney is the Director of Culture and Strategic Leadership for the Texas Elementary Principals and Supervisors Association (TEPSA). He was previously a Principal/Lead Learner at a PreK-5 school in Texas. He is an award winning author for his work in co-authoring Kids Deserve It! and Sparks in the Dark. He has also written the book Stories from Webb and published a children's book, Spruce & Lucy. Todd has been recognized by John C. Maxwell as a Top 10 Finalist for the 2018 Transformational Leadership Award, by the White House as a Connected Educator "Champion of Change", the National School Board Association as one of the "20 to Watch" in Education, the Center for Digital Education as one of their "Top 40 Innovators in Education", the BAMMYs as the "National Elementary Principal of the Year" and the "National Elementary Teacher of the Year", and the Texas Computer Education Association as their "Texas Elementary Teacher of the Year".
Follow Todd Nesloney:
About Adam Dovico:
Adam Dovico is an accomplished teacher, principal, author, speaker, and professor. He began his career in North Carolina as an elementary school teacher, then worked as a teacher and the school implementation specialist for the renowned Ron Clark Academy, where he traveled across the country conducting professional development and on-site training to schools. Adam returned to his alma mater, Wake Forest University, to train the next generation of teachers as a clinical professor. Most recently, he served as the principal at Moore Magnet Elementary. Adam is married to his wife Jaclyn and they have two sons, Ryder and Maddox.
​Follow Adam Dovico:
This post contains affiliate links.
When you make a purchase through these links, The Aspire Podcast gets a small percentage of the sale at no extra cost to you.
Need a Presenter for a conference or school PD?
Contact Joshua Stamper  for presentations on Restorative Practices, Leadership Development, and Innovative campus systems.
Follow the Host, Joshua Stamper:
Join the Conversation
My favorite part of recording a podcast each week is participating in the great conversations that happen on social media and in our comments section. Please use the #AspireLead hashtag as you continue the conversation on social media. 
If you've gotten any value from this show at all, please subscribe and leave a rating and review wherever you're listening. The ranking of this show is 100% tied to subscriptions and reviews. You can help us reach more school leaders by subscribing to the show and leaving an honest rating and review.
As we continue through this journey of distant learning, I wanted to bring you some content specific to our current struggle. Instead of asking one person, I asked many of my friends to share their insight and wisdom. Since I had so many submissions, I'm going to break this up into several short bonus episodes. I asked these amazing educators one question: what tips or strategies would you suggest during this unprecedented time? I hope their responses provide value and strength during your distant learning experience.