The Principal Leadership Lab: Featuring Adam DeWitt and Dr. Jeffry Prickett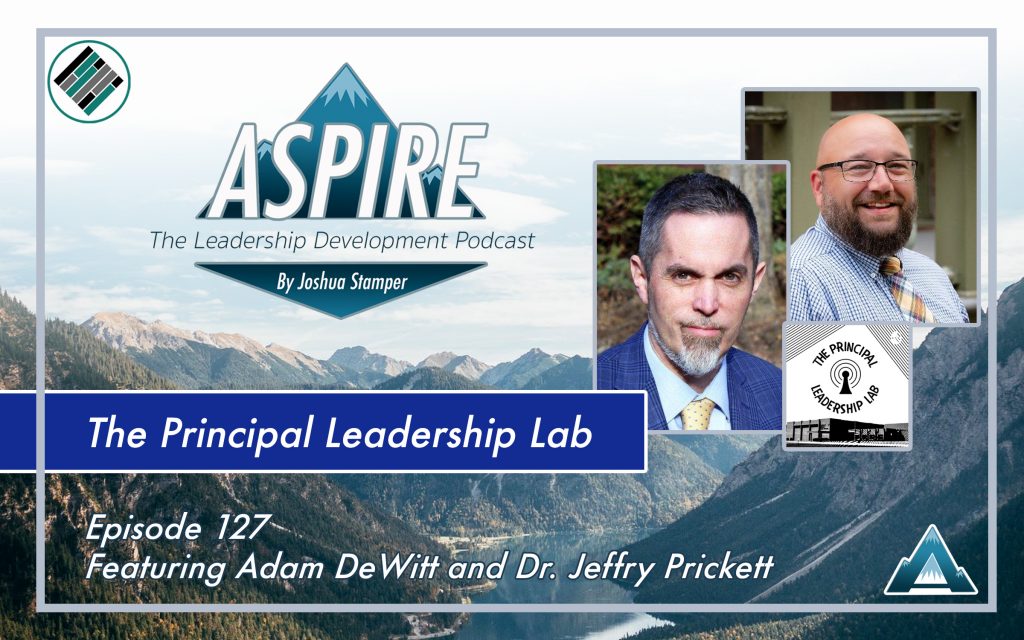 Although my two guests have been in education and known each other since the mid 1990's, this year has been the most challenging in their careers. This week's guests, Adam Dewitt and Dr. Jeffry Prickett share how during this difficult time, they've leaned heavily on each other and their professional learning network to work through the daily adversity and grow as leaders. Join us as they share their connected leadership journey and how their friendship strengthened their skills, values and contributions to the educational profession.    
In this Episode, we discuss:
Tactics to Increase Student Engagement

How to Support Teachers Through Difficult Times

The Benefits of Being Forced to Be Innovative

And the Principal Leadership Lab Podcast
About Adam DeWitt:
Started my teacher career back in 1996 at Heritage Elementary School
Moved to Minocqua, WI to teach science in a middle school
Opened a private school for one year.
Moved back to my hometown, Marinette, WI to serve as a
MS AP.

Principal

Director of Curriculum and Technology

Worked at CESA (Cooperative Educational Service Agency
Currently serving in Oconto as the principal of four schools in two buildings.
Oconto Middle School

Bayshore Community Academy

Oconto High School

Northeast Wisconsin Learner Academy
Co-host of The Principal Leadership Lab with longtime friend and educator, Dr. Jeffry Prickett.
Follow Adam DeWitt:
Twitter: @adewitt
Instagram: Principal Adam 
Facebook: Adam DeWitt
Linkedin: Adam DeWitt
About Dr. Jeffrey Prickett:
Prior to serving as Principal of McHenry High School East Campus, Dr. Prickett served as a middle school principal in both Crystal Lake and Round Lake for five years, as well as principal at the elementary level in Round Lake for eight years. In addition, Prickett also has experience as an assistant principal, dean of students, and classroom teacher.  Entering his 24th year in public education, he holds a Bachelor of Arts degree from Judson University, a Master's degree from Aurora University, and a Doctorate in Educational Leadership from National Louis University.  He lives in McHenry, IL with his wife and kids. He is the co-host of The Principal Leadership Lab podcast with longtime friend and educator, Adam DeWitt.
Follow Dr. Jeffry Prickett:
Twitter: @jdprickett
Instagram: jdprickett
Facebook: Jeffry Prickett
Linkedin: Dr. Jeffry Prickett
Blog: WordPress Blog Site
Follow The Principal Leadership Lab: 
NEW Aspire Swag with Discount Code: ASPIRE 
Tee Shirts and Drinkwear:
ASPIRE: The Leadership Development Podcast
This post contains affiliate links.
When you make a purchase through these links, The Aspire Podcast gets a small percentage of the sale at no extra cost to you.
Need a Presenter for a conference or school PD?
Contact Joshua Stamper  for presentations on Restorative Practices, Leadership Development, and Innovative campus systems.
Follow the Host, Joshua Stamper:
Review the Podcast
The ranking of this show is 100% tied to subscriptions and reviews. You can help me reach more school leaders by subscribing to the show and leaving an honest rating and review on your favorite podcast platform.