216. Strive for Happiness in Education: Featuring Robert Dunlop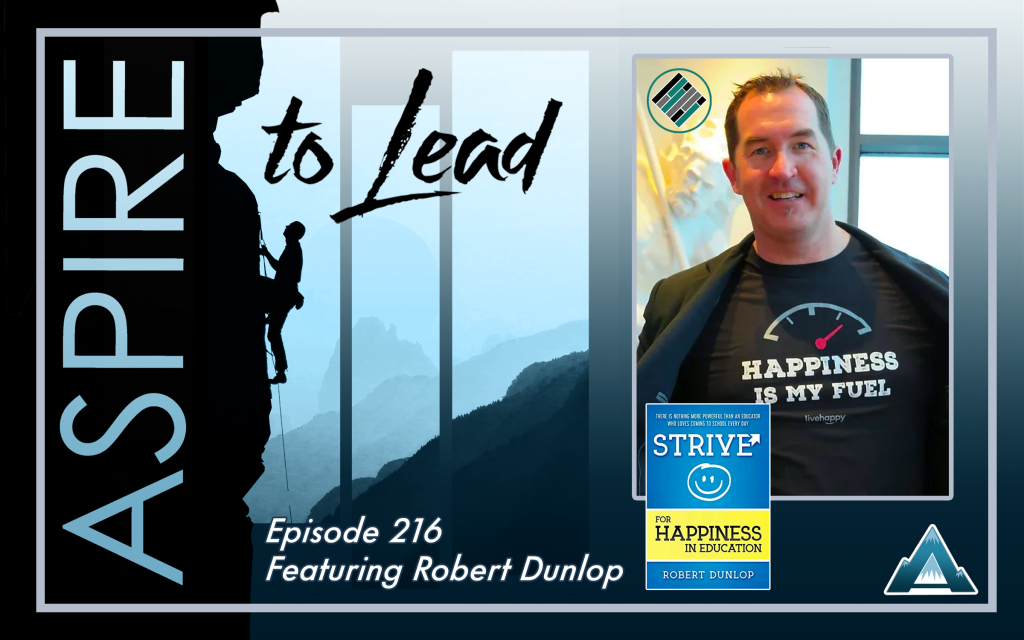 I met my amazing guest at Teach Better 22 and we had a wonderful conversation, which I wanted to continue on the Aspire to Lead Podcast. In this week's episode, Robert Dunlop shares his experiences on the pursuit of happiness and how a dark time in his life changed his perspective completely.  
In this episode, we discuss:
Understanding and Learning from the Peaks and Valleys of our Professional Journey

The Research on Happiness

And his new book, STRIVE for Happiness in Education! 
About Robert Dunlop:
Robert Dunlop is a teacher, speaker and author who has a passion for helping other educators love their careers. His work with thousands of teachers, principals and support staff has given him insight into the importance of happiness in education. He believes that all students deserve to be surrounded by educators who are passionate and love coming to school each day. To help make this a reality, he has made it his mission to help educators make happiness and well-being a priority. Recently, he published STRIVE for Happiness in Education and speaks regularly to spread his message. 
Follow Robert Dunlop:
NEW Aspire Swag with Discount Code: ASPIRE 
Tee-Shirts and Drinkware:
ASPIRE: The Leadership Development Podcast
This post contains affiliate links.
When you make a purchase through these links, The Aspire Podcast gets a small percentage of the sale at no extra cost to you.
Need a Presenter for a conference or school PD?
Contact Joshua Stamper  for presentations on Restorative Practices, Leadership Development, and Innovative campus systems.
Watch my session on Trauma Informed, restorative and social emotional practices at www.teachsummit.com/stamper
Follow the Host, Joshua Stamper:
Contact: https://joshstamper.com/contact/
Twitter: www.twitter.com/Joshua__Stamper
Instagram: www.instagram.com/joshua__stamper
Linkedin: www.linkedin.com/in/joshua-stamper
Facebook: https://www.facebook.com/AspirePodcast
Subscribe: https://podcasts.apple.com/us/podcast/aspire-the-leadership-development-podcast/id1384210762?mt=2
Aspire to Lead Won the FireBird Award!
I'm happy to announce that my book, "Aspire to Lead", won the 2022 Leadership Book Award from Speak Up Talk Radio! 
It is a great honor to get this kind of recognition and I really appreciate all your support!
The book is available for purchase on Amazon.
Review the Podcast
I want to give a huge shout out to those who have taken the time to provide a review on Apple, Spotify or any other podcast platform. It truly means the world to me that you would take the 30- 90 seconds to share how the podcast has positively impacted you or why other educators should check out the show.