241. Recipes for Resilience: Featuring Dr. Robert Martinez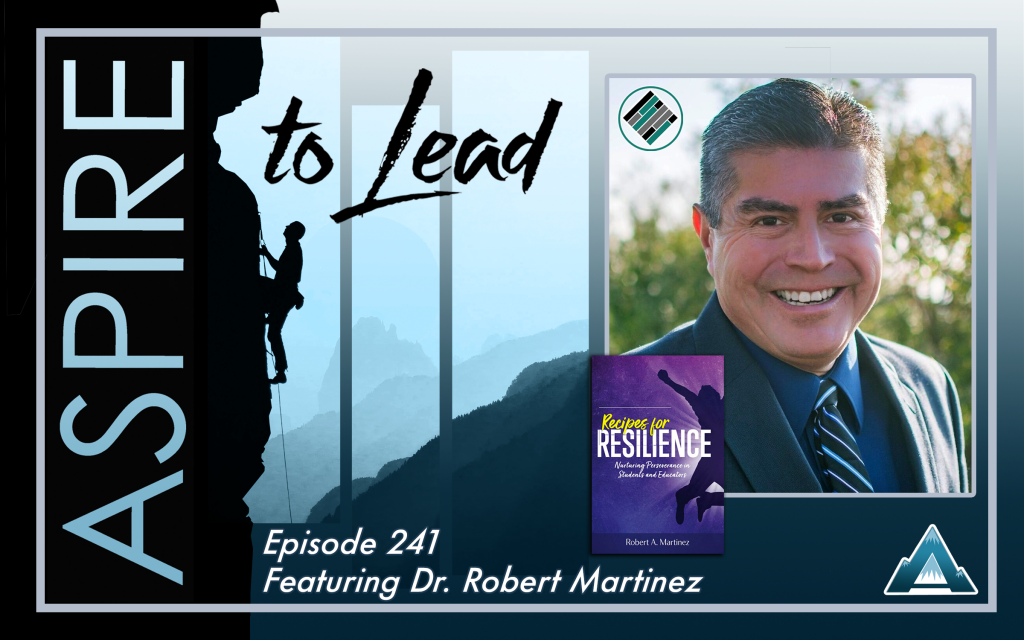 In this week's Aspire to lead episode, Dr. Robert Martinez discusses how to make connections and be present in the lives of the people you serve, especially during the tough times. 
In this episode, we discuss:
Finding ways to remember and celebrate our successes

Preparing children for the adversities that will come their way

And his new book,

Recipes for Resilience
About Dr. Robert Martinez:
Dr. Robert A. Martinez is currently the Chief of Human Resources for the Antioch Unified School District. He previously served as Superintendent/CEO of Griffin Technology Academies, and the Mt. Diablo Unified School District. He was the Assistant Superintendent in the Fairfield-Suisun Communities where he worked for 32 years. Dr. Martinez has continually focused on improving and expanding educational opportunities for students. He strives to advance understanding of resiliency research for all his employees, students, and their families. He seeks to support all District personnel with advancing their personal and professional skills, knowledge, and expertise in working with children as unique individuals with unlimited capacities. He has served as a Board Member of the Association of California School Administrators (ACSA), ACSA President-Elect of for Region 4, Past-President of Solano ACSA Charter, as a Board Member for the California Association of Latino Superintendents and Administrators (#CALSA/Greater San Francisco, Bay Area, Region 1) and is currently the Vice President of Legislative Action for ACSA Region 4. He was awarded ACSA's most acclaimed Personnel/Human Resources recognition in 2019. Dr. Martinez holds a B.A. in Psychology and an M.A. in Education, both from the University of California, Davis. He is extremely proud to have earned his Educational Doctorate Degree in Educational Leadership and Management with a concentration in Human Resources, from Drexel University.
HIs new book, "Recipes for Resilience, Nurturing Perseverance in Students and Educators". His life's work has focused on helping others live courageous, resilient lives. He previously authored "The Story of Sparkle and Shine". He is available to provide keynotes, consultation, and training on building resilient cultures that create powerful safe places for our children and adults to learn, grow and develop in peace. He believes building resilience in each person, in equitable safe places is of paramount importance.
Follow Dr. Robert Martinez:
Supporting the Podcast!
Have you ever thought about supporting the Aspire to Lead podcast? I understand that everyone has their own preferences and budgets, so if providing a tip isn't feasible for you, no worries! The podcast will always be available to listen to for free. However, if you do find value in the podcast and can afford to contribute, your support would mean the world to me. By supporting the podcast, you're enabling me to continue doing what I love and providing you with quality content.
Thank you for considering supporting the Aspire to Lead podcast. Your contribution, no matter how small, is greatly appreciated!
https://aspiretoleadpodcast.captivate.fm/support 
 Need a Presenter for a conference or school PD?
Contact Joshua Stamper  for presentations on Restorative Practices, Leadership Development, and Innovative campus systems.
Watch my session on Trauma Informed, restorative and social emotional practices at www.teachsummit.com/stamper
Follow the Host, Joshua Stamper:
Contact: https://joshstamper.com/contact/
Twitter: www.twitter.com/Joshua__Stamper
Instagram: www.instagram.com/joshua__stamper
Linkedin: www.linkedin.com/in/joshua-stamper
Facebook: https://www.facebook.com/AspirePodcast
Subscribe: https://podcasts.apple.com/us/podcast/aspire-the-leadership-development-podcast/id1384210762?mt=2
Aspire to Lead Won the FireBird Award!
I'm happy to announce that my book, "Aspire to Lead", won the 2022 Leadership Book Award from Speak Up Talk Radio! 
It is a great honor to get this kind of recognition and I really appreciate all your support!
The book is available for purchase on Amazon.
Review the Podcast
I want to give a huge shout out to those who have taken the time to provide a review on Apple, Spotify or any other podcast platform. It truly means the world to me that you would take the 30- 90 seconds to share how the podcast has positively impacted you or why other educators should check out the show.
This post contains affiliate links. When you make a purchase through these links, The Aspire Podcast gets a small percentage of the sale at no extra cost to you.