253. Navigating the Future of Education with A.I.: Featuring Sarah Thomas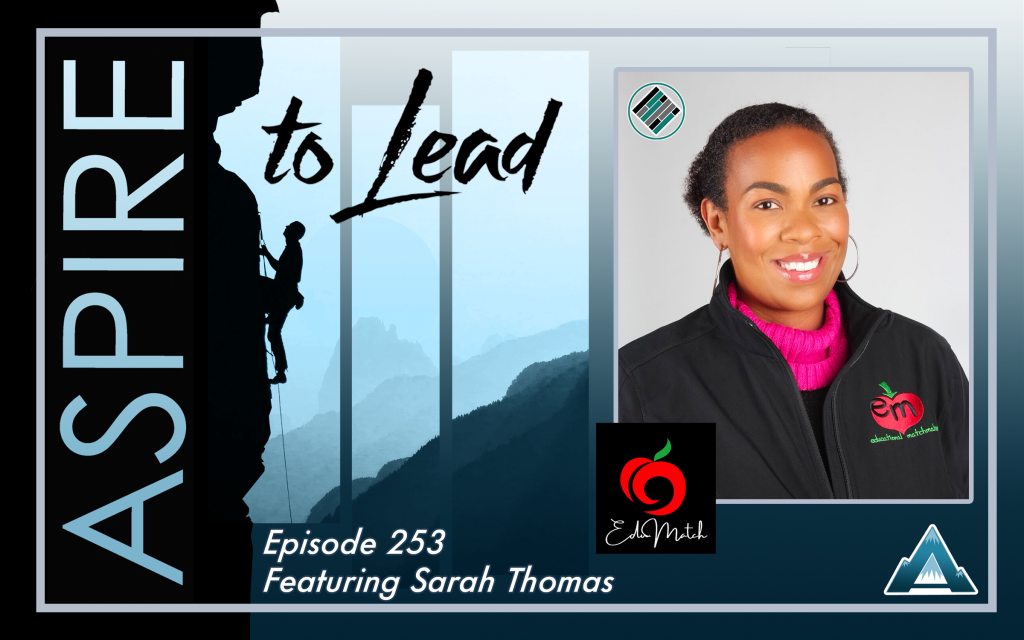 In this captivating episode of Aspire to Lead, Sarah Thomas dives into the transformative world of education and how Artificial Intelligence (A.I.) is changing the landscape of instructional strategies. 
Episode Highlights:
The Promise of A.I. in Education: Sarah Thomas illuminates the potential of A.I. in revolutionizing education. She explains how personalized learning, data-driven insights, and adaptive curricula are enhancing the learning experience.

Empowering Educators: The conversation shifts to how A.I. empowers educators to better cater to individual students' needs. Sarah shares real-life examples of how A.I. tools are supporting teachers in fostering student growth.

Ethical Considerations: As A.I. becomes more prevalent in education, ethical questions arise. Joshua and Sarah engage in a thoughtful discussion about ensuring equity, privacy, and human connection in this tech-driven era.

Preparing Future Leaders: Sarah delves into the skills and mindsets that educators need to cultivate to thrive in a world increasingly shaped by technology.

Balancing Tradition and Innovation: Joshua and Sarah explore the delicate balance between preserving educational values and embracing the innovation that A.I. offers.

Advice for Aspiring Leaders: Sarah imparts practical advice for educators aspiring to become leaders in navigating the A.I.-powered educational landscape.
About Sarah Thomas:
Sarah Thomas is the Regional Technology Coordinator in Prince Georges County, MD, and Affiliate Faculty at Loyola University.
Sarah is extremely passionate about helping educators connect globally.  This is the rationale behind the EduMatch project, which she founded in September 2014.  The project belongs to all EduMatchers, and together they have grown it to include Professional Development, Courses, publishing, Voxer, guest blogging, and a weekly Twitter chat/podcast.
Follow Sarah Thomas:
Follow EduMatch:
AI Online Event: Navigating AI Together: An EduMatch Exploration
Supporting the Podcast!
Have you ever thought about supporting the Aspire to Lead podcast? For just $5 a month, you can help me continue to create and produce valuable content for aspiring leaders in education.
I understand that everyone has their own preferences and budgets, so if $5 a month isn't feasible for you, no worries! The podcast will always be available to listen to for free. However, if you do find value in the podcast and can afford to contribute, your support would mean the world to me. By contributing, you're enabling me to continue doing what I love and providing you with quality content.
Thank you for considering supporting the Aspire to Lead podcast . Your contribution, no matter how small, is greatly appreciated.
Need a Presenter for a conference or school PD?
Contact Joshua Stamper  for presentations on Restorative Practices, Leadership Development, and Innovative campus systems.
Watch my session on Trauma Informed, restorative and social emotional practices at www.teachsummit.com/stamper
Follow the Host, Joshua Stamper:
Contact: https://joshstamper.com/contact/
Twitter: www.twitter.com/Joshua__Stamper
Instagram: www.instagram.com/joshua__stamper
Linkedin: www.linkedin.com/in/joshua-stamper
Facebook: https://www.facebook.com/AspirePodcast
Subscribe: https://podcasts.apple.com/us/podcast/aspire-the-leadership-development-podcast/id1384210762?mt=2
Aspire to Lead Won the FireBird Award!
I'm happy to announce that my book, "Aspire to Lead", won the 2022 Leadership Book Award from Speak Up Talk Radio! 
It is a great honor to get this kind of recognition and I really appreciate all your support!
The book is available for purchase on Amazon.
Review the Podcast
I want to give a huge shout out to those who have taken the time to provide a review on Apple, Spotify or any other podcast platform. It truly means the world to me that you would take the 30- 90 seconds to share how the podcast has positively impacted you or why other educators should check out the show.
This post contains affiliate links. When you make a purchase through these links, The Aspire Podcast gets a small percentage of the sale at no extra cost to you.