261. In This Season, We Need Words for the Heart: Featuring Todd Nesloney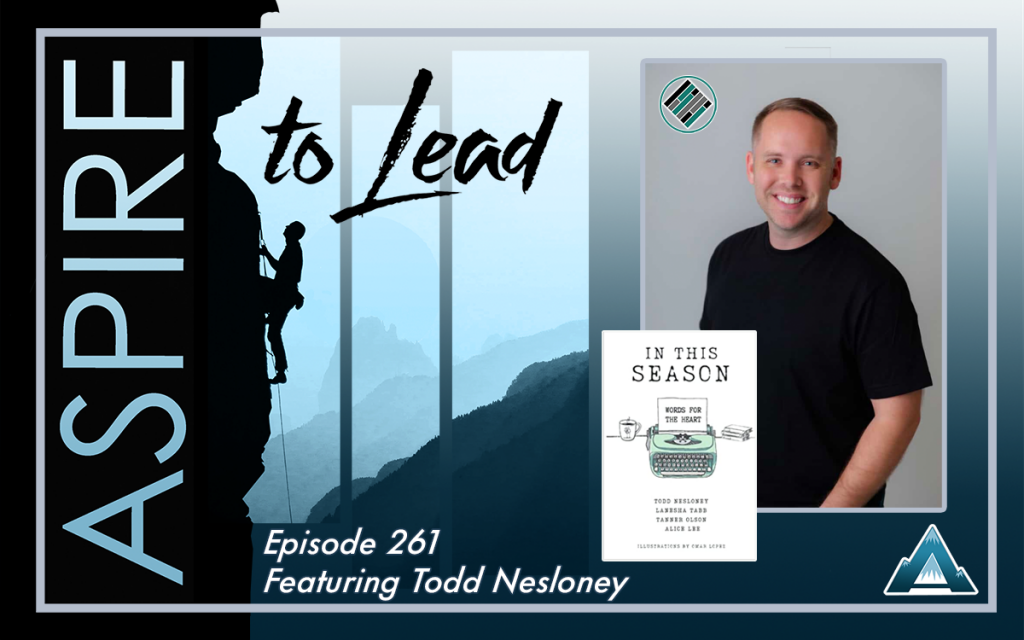 Join us for an incredibly heartwarming episode as we dive into the world of seasons, emotions, and authentic leadership with the remarkable Todd Nesloney. We're exploring his touching book, "IN THIS SEASON: WORDS FOR THE HEART," a collection of words that beautifully encapsulate the seasons of our lives, reminding us that we are never alone in our feelings and experiences.
Life is a journey through various seasons, and Todd's words invite us to reflect, connect, and find purpose in each one. Whether you've been to the mountaintops or the deep valleys, you'll find solace in this conversation.
We also touch on Todd's insights on conferences, including "Get Your Teach On," and his valuable advice on being an authentic and servant leader. Prepare to be inspired, uplifted, and reminded that your story is a beautiful part of the human experience.
About Todd Nesloney:
Todd Nesloney is the Director of Culture and Strategic Leadership for the Texas Elementary Principals and Supervisors Association (TEPSA). He was previously a Principal/Lead Learner at a PreK-5 school in Texas. He is an award winning author for his work in co-authoring Kids Deserve It! and Sparks in the Dark. He has also written the book Stories from Webb and published a children's book, Spruce & Lucy. Todd has been recognized by John C. Maxwell as a Top 10 Finalist for the 2018 Transformational Leadership Award, by the White House as a Connected Educator "Champion of Change", the National School Board Association as one of the "20 to Watch" in Education, the Center for Digital Education as one of their "Top 40 Innovators in Education", the BAMMYs as the "National Elementary Principal of the Year" and the "National Elementary Teacher of the Year", and the Texas Computer Education Association as their "Texas Elementary Teacher of the Year".
Follow Todd Nesloney:
Supporting the Podcast!
Have you ever thought about supporting the Aspire to Lead podcast? For just $5 a month, you can help me continue to create and produce valuable content for aspiring leaders in education.
I understand that everyone has their own preferences and budgets, so if $5 a month isn't feasible for you, no worries! The podcast will always be available to listen to for free. However, if you do find value in the podcast and can afford to contribute, your support would mean the world to me. By becoming a patron, you're enabling me to continue doing what I love and providing you with quality content.
Thank you for considering supporting the Aspire to Lead podcast on Patreon. Your contribution, no matter how small, is greatly appreciated
https://aspiretoleadpodcast.captivate.fm/support 
Need a Presenter for a conference or school PD?
Contact Joshua Stamper  for presentations on Restorative Practices, Leadership Development, and Innovative campus systems.
Watch my session on Trauma Informed, restorative and social emotional practices at www.teachsummit.com/stamper
Follow the Host, Joshua Stamper:
Contact: https://joshstamper.com/contact/
Twitter: www.twitter.com/Joshua__Stamper
Instagram: www.instagram.com/joshua__stamper
Linkedin: www.linkedin.com/in/joshua-stamper
Facebook: https://www.facebook.com/AspirePodcast
Subscribe: https://podcasts.apple.com/us/podcast/aspire-the-leadership-development-podcast/id1384210762?mt=2
YouTube: https://www.youtube.com/@joshuastamper
Aspire to Lead Won the FireBird Award!
I'm happy to announce that my book, "Aspire to Lead", won the 2022 Leadership Book Award from Speak Up Talk Radio! 
It is a great honor to get this kind of recognition and I really appreciate all your support!
The book is available for purchase on Amazon.
Review the Podcast
I want to give a huge shout out to those who have taken the time to provide a review on Apple, Spotify or any other podcast platform. It truly means the world to me that you would take the 30- 90 seconds to share how the podcast has positively impacted you or why other educators should check out the show.
This post contains affiliate links. When you make a purchase through these links, The Aspire Podcast gets a small percentage of the sale at no extra cost to you.