264. Educators Empowering Educators: The Power of Creating Content for Collective Growth with Rae Hughart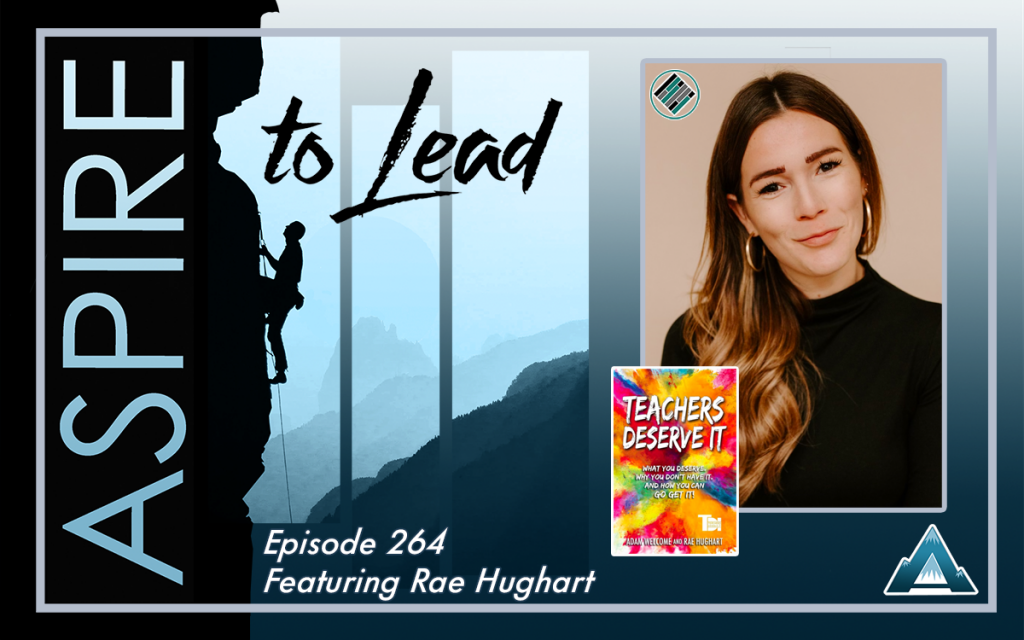 Join Joshua Stamper and special guest Rae Hughart in a compelling conversation that delves into the profound impact educators can have by creating content for one another. In this episode, we explore practical tips to kickstart your content creation journey, emphasizing that everyone's voice holds immense value in the education community.
🚀 Key Topics:
Overcoming obstacles in the content creation process.

The unique value each educator brings to the table.

Dispelling myths that may hinder educators from sharing their insights.
About Rae Hughart:
Rae Hughart is the Director of Training & Development for the Teach Better Team and author of Teachers Deserve It & Teach Better books. 
After being inducted into The Illinois State University Hall of Fame in 2017, Rae was awarded the 2018 First Place Henry Ford Teacher Innovator Award for her innovative educational impact through the Teach Further Model. Additionally, Rae serves on several Educational Boards including the role of Vice President with the Association of Illinois Middle Schools (AIMS). 
Rae conducts training on a variety of topics including the Teach Better Mindset, Dynamic Lesson Planning, Community Relationship Building, Student Engagement, Targeted Feedback Strategies, Mastering Personalized Learning. and Educator Empowerment.
Follow Rae Hughart:
Follow The Teach Better Team:
Supporting the Podcast!
Have you ever thought about supporting the Aspire to Lead podcast? For just $5 a month, you can help me continue to create and produce valuable content for aspiring leaders in education.
I understand that everyone has their own preferences and budgets, so if $5 a month isn't feasible for you, no worries! The podcast will always be available to listen to for free. However, if you do find value in the podcast and can afford to contribute, your support would mean the world to me. By becoming a patron, you're enabling me to continue doing what I love and providing you with quality content.
Thank you for considering supporting the Aspire to Lead podcast on Patreon. Your contribution, no matter how small, is greatly appreciated
https://aspiretoleadpodcast.captivate.fm/support 
Need a Presenter for a conference or school PD?
Contact Joshua Stamper  for presentations on Restorative Practices, Leadership Development, and Innovative campus systems.
Watch my session on Trauma Informed, restorative and social emotional practices at www.teachsummit.com/stamper
Follow the Host, Joshua Stamper:
Contact: https://joshstamper.com/contact/
Twitter: www.twitter.com/Joshua__Stamper
Instagram: www.instagram.com/joshua__stamper
Linkedin: www.linkedin.com/in/joshua-stamper
Facebook: https://www.facebook.com/AspirePodcast
Subscribe: https://podcasts.apple.com/us/podcast/aspire-the-leadership-development-podcast/id1384210762?mt=2
Aspire to Lead Won the FireBird Award!
I'm happy to announce that my book, "Aspire to Lead", won the 2022 Leadership Book Award from Speak Up Talk Radio! 
It is a great honor to get this kind of recognition and I really appreciate all your support!
The book is available for purchase on Amazon.
Review the Podcast
I want to give a huge shout out to those who have taken the time to provide a review on Apple, Spotify or any other podcast platform. It truly means the world to me that you would take the 30- 90 seconds to share how the podcast has positively impacted you or why other educators should check out the show.
This post contains affiliate links. When you make a purchase through these links, The Aspire Podcast gets a small percentage of the sale at no extra cost to you.