Connected Educators and Leaders: Featuring Jimmy Casas and Jeff Zoul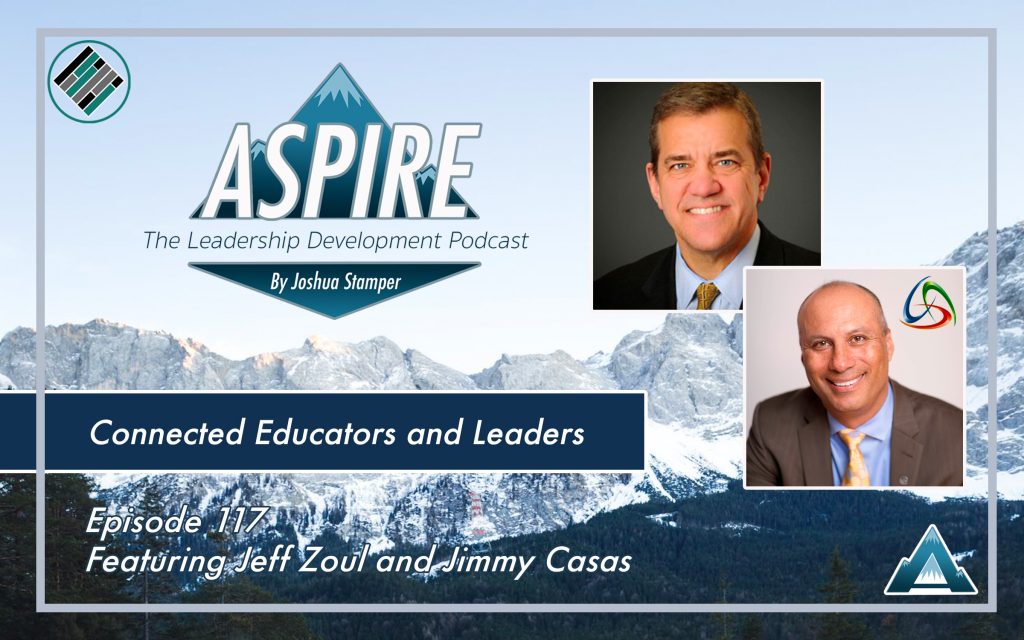 Have you ever started a difficult leadership task and felt alone, inadequate or unworthy? This week's guests, Jeff Zoul and Jimmy Casas, share how through their connection with other educators and leaders, they were able to gain inspiration, knowledge, and confidence to overcome the most difficult tasks of their careers.  
In this Episode, we discuss:
The Process to Connect with Other Leaders

Regaining your Confidence

Best Advice for Leaders

And ConnectEDD Books
About Jeff Zoul:
Dr. Jeffrey Zoul is a lifelong teacher, learner, and leader. During Jeff's distinguished career in education he has served in a variety of roles, most recently as Assistant Superintendent for Teaching and Learning with Deerfield Public Schools District 109 in Deerfield, Illinois, one of the highest-performing school districts in the state. Jeff also served as a teacher and coach in the State of Georgia for many years before moving into school administration. Jeff has been recognized as an outstanding principal in the State of Georgia and served as principal at a national School of Excellence in Illinois. Zoul has taught graduate courses at the university level in the areas of assessment, research, and program evaluation. He is the author/co-author of more than a dozen books, including What Connected Educators Do Differently, Start. Right. Now. – Teach and Lead for Excellence, Improving Your School One Week at a Time, The Principled Principal, and Leading Professional Learning: Tools to Connect and Empower Teachers. Jeff has earned several degrees, including his undergraduate degree from the University of Massachusetts and his doctoral degree from the University of Alabama. In his spare time, Jeff enjoys running and has completed over a dozen marathons.
Follow Jeff Zoul:
About Jimmy Casas:
Jimmy served twenty-two years as a school leader. He is a best selling author, speaker, leadership coach, and a state and national award winning principal. Under Jimmy's leadership, Bettendorf High School was named one of the best high schools in the country three times by Newsweek and U.S. News and World Report. JImmy was named the 2012 Iowa Principal of the Year and was runner-up NASSP 2013 National Principal of the Year. In 2014, Jimmy was invited to the White House to speak on the Future Ready Pledge. Finally, in 2015, he received the Bammy Award for the National Principal of the Year. 
Jimmy is the author of six books, including 'What Connected Educators Do Differently," "Start. Right.Now. – Teach and Lead for Excellence," the best selling book, "Culturize – Every Student. Every Day. Whatever It Takes," "Stop. Right. Now. – 39 Stops to Making Schools Better, "Live Your Excellence – "Bring Your Best Self To School Every Day," and his latest release, "Daily Inspiration – Positive Thoughts For Every Day Of The Year".
Follow Jimmy Casas:
This post contains affiliate links.
When you make a purchase through these links, The Aspire Podcast gets a small percentage of the sale at no extra cost to you.
Need a Presenter for a conference or school PD?
Contact Joshua Stamper  for presentations on Restorative Practices, Leadership Development, and Innovative campus systems.
Follow the Host, Joshua Stamper:
Review the Podcast
The ranking of this show is 100% tied to subscriptions and reviews. You can help me reach more school leaders by subscribing to the show and leaving an honest rating and review on your favorite podcast platform.