263. Achieving Your Best in Work and Home Life: Featuring Annick Rauch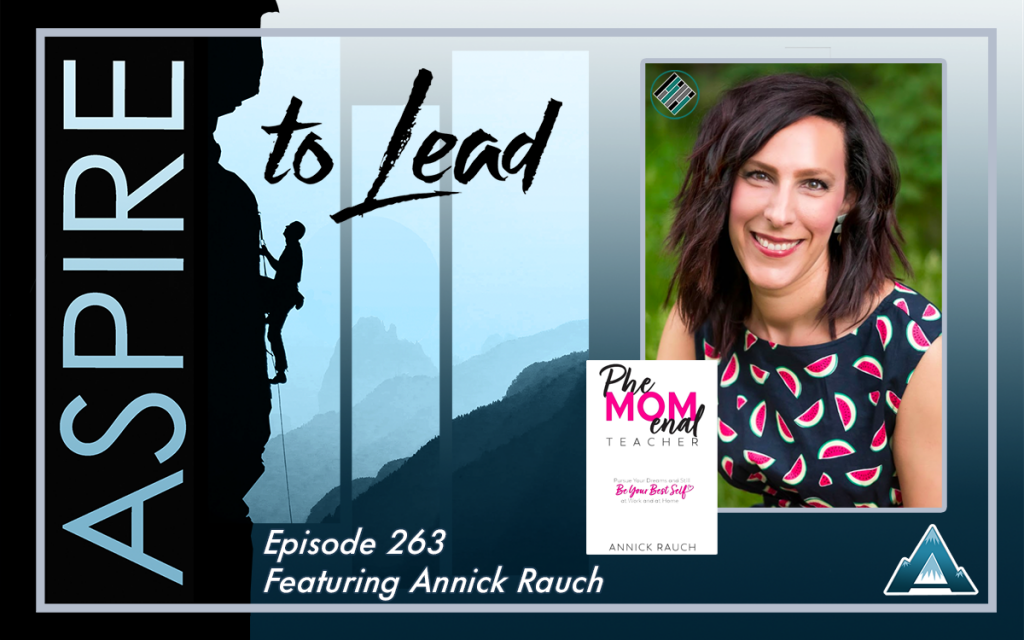 Welcome to a deeply insightful episode with the remarkable teacher and author, Annick Rauch. Join us as we explore the themes of work-life balance, mental health, and nurturing a healthy lifestyle, all inspired by Annick's newly released book, "PheMOMenal Teacher: Pursue Your Dreams and Still Be Your Best Self at Work and at Home."
This conversation goes beyond the confines of work and home life, delving into topics such as mental health, strategies for overcoming depression, and the importance of setting an example of healthy practices for our children. Annick Rauch, a beacon of wisdom and experience, shares valuable insights and practical tips for navigating the complexities of balancing one's dreams, career, and personal life.
This episode promises to inspire, inform, and offer actionable advice for those seeking to excel in their professional pursuits while maintaining a harmonious and fulfilling personal life. Tune in for a powerful discussion on achieving your best in both spheres and modeling a healthy lifestyle for yourself and your children.
About Annick Rauch:
Annick Rauch is the author of Phe-MOM-enal Teacher. She is a passionate grade 1 French immersion teacher who truly loves what she does. Outside of school, Annick is a very busy mom. She and her husband Chris have four energetic boys and a silver lab. Annick loves to go camping with her family, and she also makes it a priority to carve out time for trips with friends. Although busy, Annick doesn't let that stop her from pursuing her dreams outside of her work and home life. She is an avid runner, and she blogs at annickrauch.ca. Annick is a lifelong learner who continues to follow her passions.
Follow Annick Rauch:
Supporting the Podcast!
Have you ever thought about supporting the Aspire to Lead podcast? For just $5 a month, you can help me continue to create and produce valuable content for aspiring leaders in education.
I understand that everyone has their own preferences and budgets, so if $5 a month isn't feasible for you, no worries! The podcast will always be available to listen to for free. However, if you do find value in the podcast and can afford to contribute, your support would mean the world to me. By becoming a patron, you're enabling me to continue doing what I love and providing you with quality content.
Thank you for considering supporting the Aspire to Lead podcast on Patreon. Your contribution, no matter how small, is greatly appreciated
https://aspiretoleadpodcast.captivate.fm/support 
Need a Presenter for a conference or school PD?
Contact Joshua Stamper  for presentations on Restorative Practices, Leadership Development, and Innovative campus systems.
Watch my session on Trauma Informed, restorative and social emotional practices at www.teachsummit.com/stamper
Follow the Host, Joshua Stamper:
Contact: https://joshstamper.com/contact/
Twitter: www.twitter.com/Joshua__Stamper
Instagram: www.instagram.com/joshua__stamper
Linkedin: www.linkedin.com/in/joshua-stamper
Facebook: https://www.facebook.com/AspirePodcast
Subscribe: https://podcasts.apple.com/us/podcast/aspire-the-leadership-development-podcast/id1384210762?mt=2
Aspire to Lead Won the FireBird Award!
I'm happy to announce that my book, "Aspire to Lead", won the 2022 Leadership Book Award from Speak Up Talk Radio!
It is a great honor to get this kind of recognition and I really appreciate all your support!
The book is available for purchase on Amazon.
Review the Podcast
I want to give a huge shout out to those who have taken the time to provide a review on Apple, Spotify or any other podcast platform. It truly means the world to me that you would take the 30- 90 seconds to share how the podcast has positively impacted you or why other educators should check out the show.
This post contains affiliate links. When you make a purchase through these links, The Aspire Podcast gets a small percentage of the sale at no extra cost to you.