Top 5 Most listened to Aspire to Lead Episodes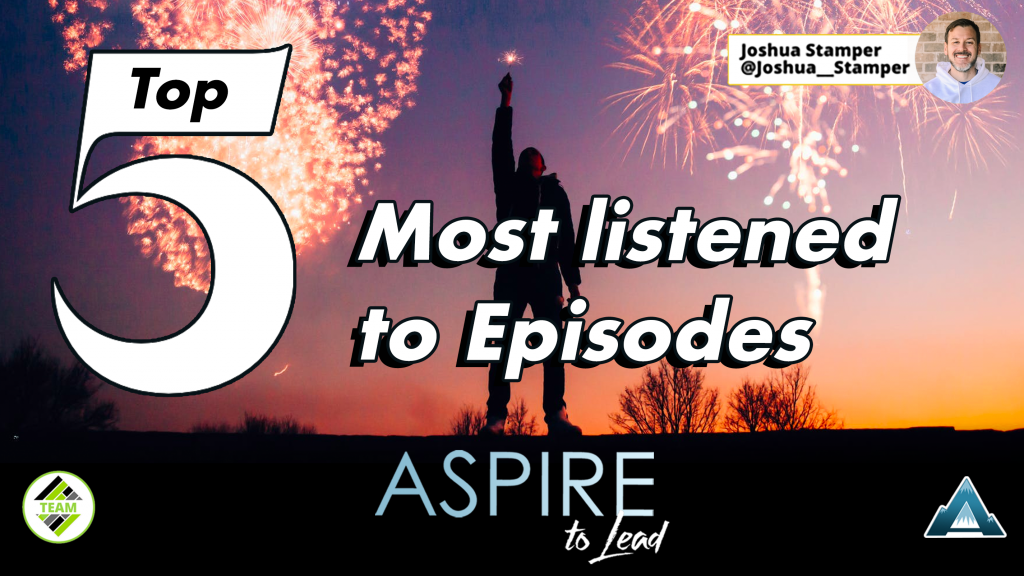 As I recorded my 200th episode with Sarah Johnson, I had the opportunity to reflect on the last four years and reminisce on some of the top Aspire to Lead episodes. Here are the top 5 most listened to Aspire to Lead episodes:  
#1: Changing the Way We View Assessment: Featuring Natalie Vardabasso
This was such a fun episode to record. Natalie Vardabasso is a part of the Teach Better Podcast Network and I really enjoyed our conversation on how educators can use assessment, implementing equity practices and social emotional strategies to enhance student experiences, innovation, and creativity. 
In this episode, we also discuss:
Equity work beyond books

The relationship between Standards Based Grading and SEL practices

And her podcast, #EduCrush!
Previously a middle-school teacher and instructional coach, Natalie is currently the Assessment Lead at a K-12 special education school and host of the #EduCrush podcast. In her many roles, she has lived into the belief that learning is driven by our passions, aligned with our strengths, and at the heart of our humanity. Whether working with kids or adults, Natalie strives to create an inclusive culture that embraces learning as the vehicle through which we find out who we are and how we might make a positive impact on the world.
Follow Natalie Vardabasso:
#2 Fair Isn't Always Equal: Featuring Rick Wormeli
This episode may be my favorite Aspire to Lead discussion of all time. Rick has been such a huge inspiration in my educational and leadership journey. It was a true honor to speak with him on differentiated assessments and grades. 
In this Episode, we discuss:
Differentiated Grading

Traditional Grading Scale and the Impact it has on Learning 

The role of Homework

The Impact of a Zero

GPA and the Future of Grading
One of the first Nationally Board Certified teachers in America, Rick brings innovation, energy, validity and high standards to both his presentations and his instructional practice, which include 39 years teaching math, science, English, physical education, health, and history, as well as coaching teachers and principals. Rick's work has been reported in numerous media, including ABC's Good Morning America, Hardball with Chris Matthews, National Geographic and Good Housekeeping magazines, What Matters Most: Teaching for the 21st Century, and the Washington Post. He is a columnist for AMLE Magazine and a frequent contributor to ASCD's Education Leadership magazine. He is the author of the award-winning book Meet Me in the Middle as well as the best-selling books Day One and Beyond, Fair Isn't Always Equal: Assessment and Grading in the Differentiated Classroom (Second Edition), Differentiation: From Planning to Practice and Metaphors & Analogies: Power Tools for Teaching any Subject, all five from Stenhouse Publishers, as well as Summarization in any Subject: 60 Innovative and Tech-Infused Strategies for Deeper Student Learning (releasing in fall 2018) published by ASCD.  His book, The Collected Writings (So Far) of Rick Wormeli: Crazy Good Stuff I Learned about Teaching Along the Way, is a collection of his published articles, guest blogs and more through 2013. His classroom practice is a showcase for ASCD's best-selling series, At Work in the Differentiated Classroom.
Follow Rick Wormeli:
#3 On Fire to Influence: Featuring CJ Reynolds
I had the wonderful opportunity to meet CJ Reynolds at the Teach Better 19 conference and it was the highlight of the event. CJ is an amazingly creative, inspiring, and passionate teacher in the Philadelphia area.  In this episode, he shared how he uses unorthodox relationship building strategies and his YouTube channel to impact his students, community and educators around the world. 
In this Episode, we discuss:
Strategies to build relationships

Practical ways to stay relevant 

Finding "like minded" creators and educators

Mental health routines 

And Real Rap With Reynolds
Mr. Reynolds is a west Philadelphia high school literature teacher, author, YouTuber, & public speaker.
In his book, Teach Your Class Off, on his YouTube Channel, Real Rap With Reynolds, and on his Podcast, Sunday Night Teacher Talk, Reynolds offers an authentic glimpse into what it looks like to teach high school in the inner city.
Using "Real Rap" to share teaching tips and strategies, Reynolds helps new and veteran teachers alike become the teacher they always dreamed of being.
Follow CJ Reynolds
#4 Mindfulness During Distance Learning: Featuring Nathan Maynard
Nathan Maynard has been a giant resource for me as I have implemented restorative practices on my campus. He is the co-author of Hacking Discipline and I had the pleasure of having Nathan in my book, Aspire to Lead. In this episode, Nathan shared how educators can use trauma-informed behavioral practices, mindfulness, and circles to improve our student's emotional wellbeing. 
In this Episode, we discuss:
"Circling up" during distance learning 

Restorative Practices 

Utilizing mindfulness during these uncertain times 

Student voice importance around equity 

And Behavior Flip
Nathan Maynard is a student voice advocate. He previously worked as an administrator at Purdue Polytechnic High School in Indianapolis, as the Dean of Culture. He also is the Co-Founder of BehaviorFlip, a restorative behavior management system that helps build a culture of empathy and responsibility. Nathan studied Behavioral Neuroscience at Purdue University and has been in the field for over eleven years working with at-risk populations. He was awarded "Youth Worker of the Year" through dedicating his time with helping underserved and underprivileged youth involved with the juvenile justice system. He has been facilitating restorative practices for over fifteen years in a wide range of educational settings. Nathan is passionate about addressing the school-to-prison pipeline crisis and closing the achievement gap by implementing trauma-informed behavioral practices. Nathan has expertise in Dialectical Behavioral Coaching, Motivational Interviewing, Positive Youth Development, Restorative Justice, and Trauma-Informed building practices to assist with creating positive school climates.
Follow Nathan Maynard: 
Website: 

Facebook: BehaviorFlip 

Facebook Group: Hacking School Discipline 
#5 Leader of Learning: Featuring Dan Kreiness
I've been connected with Dan Kreiness since I started my podcast and he has been a wonderful resource. He is such a talented leader and podcaster. In this episode, we discuss how Dan went through a tough experience as an administrator to learn his greatest lesson, which went much further than just working hard.  
In this Episode, we discuss:
Inspiring the adults to inspire the students

Fighting through fear

Learning through failure

Strategies to observe your peers 

And the Leader in Learning Podcast
Dr. Dan Kreiness is an instructional leader, podcast host, author, and speaker who constantly searches for the most effective ways to advance education and produce high student achievement. Dr. Kreiness has worked in education for over 15 years as a school administrator, instructional coach, intervention specialist, and classroom teacher while working in districts in New York City metro areas in New York and Connecticut. Dr. Kreiness holds a doctorate degree in leadership and master's degrees in adolescent education and educational leadership. His original research and dissertation is called "Transformational Leadership to Inspire Growth Mindset in Classroom Teachers."
Dr. Kreiness hosts the popular Leader of Learning podcast which can be found on all podcast apps and music streaming services and was named to Feedspot's list of the Top 45 Educational Podcasts You Must Follow in 2021. He has also been a guest on several other podcasts. Dr. Kreiness is also a published author, having contributed chapters to 100 No-Nonsense Things that ALL Teachers Should STOP Doing, Edumatch Snapshot in Education (2017) Volume 2: Professional Practice and The EduMatch Teacher's Recipe Guide: Survive and Thrive in the Kitchen and Beyond. He is currently under contract with Edumatch Publishing to publish a solo book in late 2021 or 2022.
Dr. Kreiness is emerging as an expert presenter at education conferences and trainings on topics including leadership, growth mindset, student engagement, various instructional technologies, and content creation and branding. Dr. Kreiness was named to the 2017 class of ASCD Emerging Leaders. He is also a Google Certified Educator, Microsoft Certified Educator, Nearpod PioNear, Flipgrid Ambassador, WeVideo Certified Educator, and Wakelet Ambassador. His specific educational interests include leadership, educational technology, and student engagement.
Follow Dan Kreiness
I hope you enjoy these most listened to episodes! Check out more Aspire to Lead episodes HERE with some of the top educational leaders.
If you've gotten any value from this show at all, please follow the podcast and leave a rating and review on your favorite podcast application. You can help me reach more school leaders and educators by leaving a 5 star rating and review.