If the Dance Floor is Empty, Change the Song: Featuring Dr. Joe Clark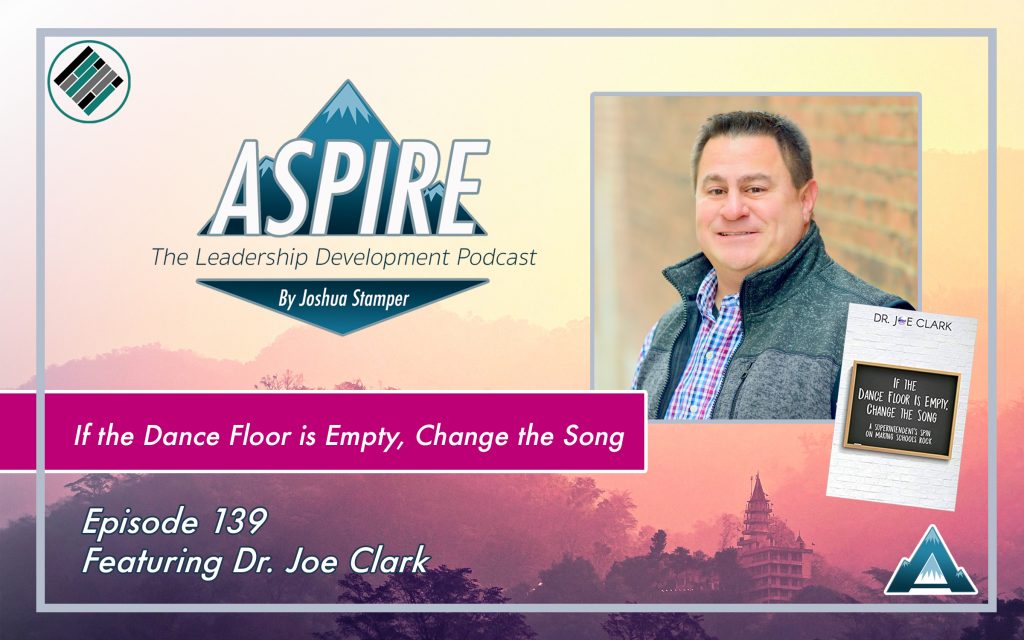 Have you ever been on the dance floor at a party or a wedding and when the DJ changes the song, everyone either runs on or off the dance floor? This week's guests, Dr. Joe Clark, explains why leadership is similar to being a disc jockey and how to inspire others to take action and serve others.
In this episode, we discuss:
Why it's important to share when you made a mistake
How to go above and beyond your position
And his book, If the Dance Floor is Empty, Change the Song
About Dr. Joe Clark:
Dr. Joe Clark has worked as an educator since 1992, including six years as a high school English teacher, seven years as a building principal and assistant principal, and seventeen years in the central office as a superintendent and assistant superintendent. Dr. Clark is currently the superintendent of the Nordonia Hills City Schools, a district serving 3,600 students in Northeast Ohio. Dr. Clark received all three of his degrees at Kent State University: a B.A. in English, an M.Ed. in Educational Administration, and a Ph.D. in K-12 Leadership, with a school law focus. His dissertation is titled "A legislative and judicial analysis of sexual relationships between American secondary students and their teachers."
Dr. Clark is the author of the book If the Dance Floor Is Empty, Change the Song (A Superintendent's Spin on Making Schools Rock).
Dr. Clark has also spent significant years as a camp director and mobile disc jockey. He is married to Amie and has two adult sons, Isaac and Matthew. His best buddy is Frankie, a three-year-old Beabull. You can follow Dr. Clark on Twitter @DrJoeClark, and you can follow Frankie @Frankie_Dawg.
Follow Dr. Joe Clark
Are you a super-fan of the Aspire podcast? Well, now you can show off your support with the new Aspire swag, featuring tee shirts, hoodies and a variety of drinkware. You can find all your Aspire Swag at www.teachbetter.com/swag
Use Discount Code: ASPIRE for 25% OFF
Tee-Shirts, Hoodies, and Drinkware: ASPIRE: The Leadership Development Podcast
This post contains affiliate links.
When you make a purchase through these links, The Aspire Podcast gets a small percentage of the sale at no extra cost to you.
Need a Presenter for a conference or school PD?
Follow the Host, Joshua Stamper:
Review the Podcast
The ranking of this show is 100% tied to subscriptions and reviews. You can help me reach more school leaders by subscribing to the show and leaving an honest rating and review on your favorite podcast platform.